SONY XPERIA 5 III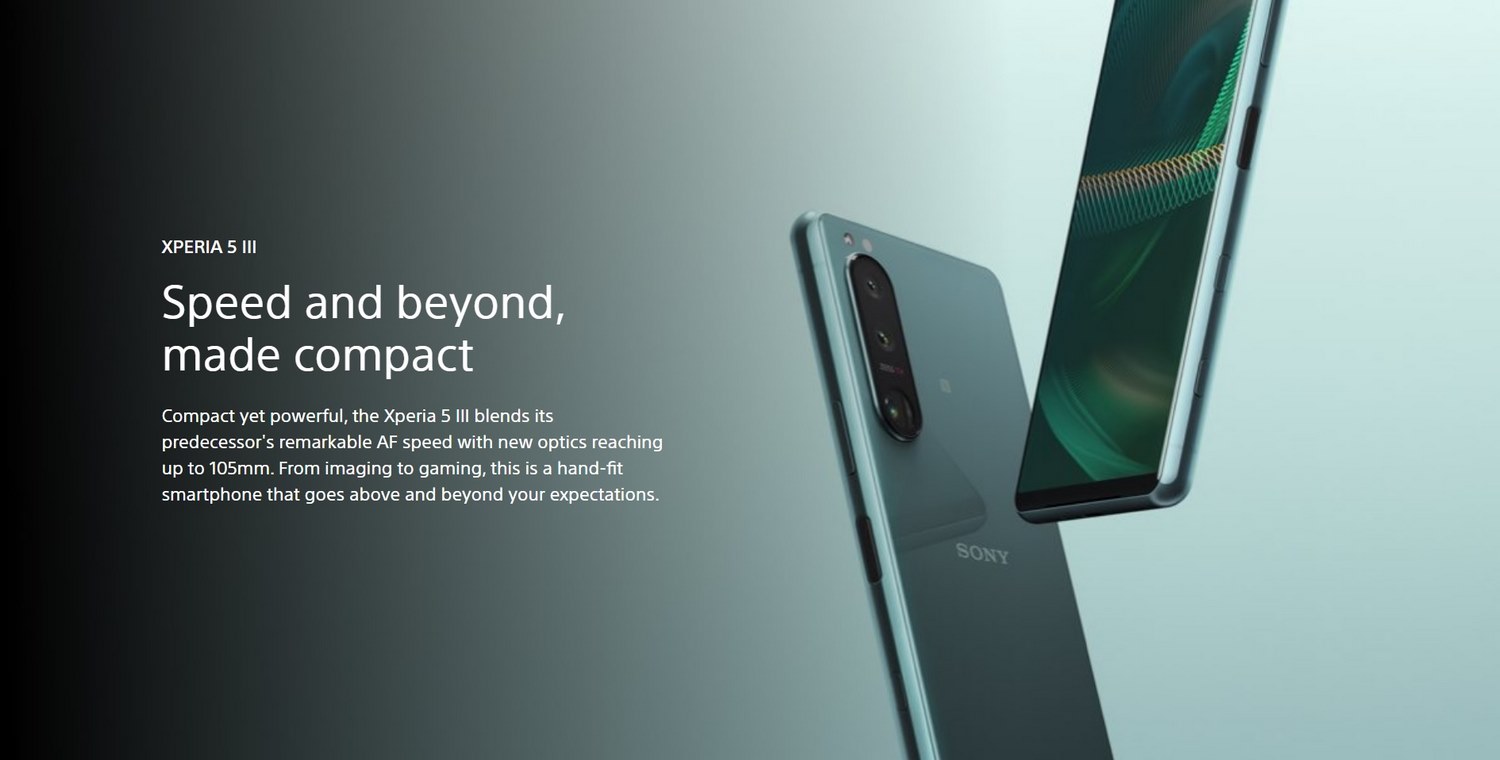 The SONY Xperia 5 III combines powerful performance and a long battery life with the latest in SONY camera, sound, and display technology – all in a compact phone that is easy to use even one-handed.
Serious power in a hand-fit design
In a world of ever larger smartphones, the Xperia 5 III shows there is another way. Boasting 5G speed, powerful performance and impressive battery life, it packs the latest Sony camera, display, sound and gaming technologies into a compact design that's easy to use one-handed.
For photographers
Professional technology from Alpha cameras
The Xperia 5 III was co-developed with the engineers behind the latest Alpha 9 series cameras, renowned for their industry-leading autofocus technology, and with input from professional photographers, who helped tune the technology and refine the photographic experience and results. Key features include fast AF in all three cameras, plus object tracking technology to maintain sharp focus on moving subjects.
Outstanding ZEISS quality in your Xperia
ZEISS optics calibrated specifically for your Xperia smartphone. The ZEISS T* coating contributes to exquisite rendering and contrast by reducing reflections.
Four versatile lens options to unleash your creativity
Expand your creative possibilities with four versatile lenses in a triple camera and fast, accurate AF across all cameras. Thanks to Dual PDAF sensors, Continuous AF keeps focus on moving subjects, while Sony's unique telephoto system supports fast AF even at extended focal lengths.
Lightning fast focus, even at long range
An optical telephoto lens up to 105mm with fast AF lets you capture moving subjects even at distance. Crucially, the two focal lengths are included in one telephoto module, complete with Dual PDAF sensors. So when you switch between 70mm and 105mm, the focal lens unit and the AF lens unit work in unison to focus fast.
Stunning images every time
With four versatile lens options, the Xperia 5 III puts a huge variety of shots within your reach.
Object tracking locks on to fast-moving subjects
Now you can keep fast-moving subjects in sharp focus even if they temporarily move out of sight. Simply specify the subject you want to stay focused on by touching it on the display, and let object tracking do the rest.
Create bokeh effects with basic mode
The Xperia 5 III makes it easy to capture striking images with artistic bokeh effects, adding another layer of creativity to your photography.
Experience Real-time Eye AF – for humans and animals
Real-time Eye AF lets you take stunning portraits, whether you're photographing people or animals. Even if your subject is on the move or one eye is covered, you'll capture memorable images full of energy and expression.
Fast access to key camera features
Choose new Basic mode for fast access to a range of easy-to-use photography features including a touch shutter button, portrait orientation, Bokeh effect, Panorama, and more.
Capture smooth, stable video
The Xperia 5 III features the very latest Optical SteadyShot™ with FlawlessEye™, which couples the image sensor's increased reading speed with Sony's original algorithm for optical image stabilisation. The result is supremely smooth, shake-free video footage.
For movie lovers
An immersive viewing experience
With its stunning 6.1″ 21:9 CinemaWide™ HDR OLED 120Hz Refresh rate display, and no notches on the screen to interrupt your view, the Xperia 5 III is made for movie lovers.
Everything you watch, remastered to perfection
The X1™ for mobile engine brings BRAVIA HDR remaster technology to everything you watch. Even streaming content will have more contrast, color and clarity.
Dolby Atmos® sound, tuned in collaboration with Sony Pictures Entertainment
Watching a movie with Dolby Atmos® is an immersive experience, with multi-dimensional sound flowing above and around you. Now you can experience Dolby Atmos® sound tuned in collaboration with Sony Pictures Entertainment with headphones or the Full-stage stereo speakers.
Experience color as the creators intended
Enjoy your favorite movies and TV shows with color exactly as the creators intended. Creator mode "powered by CineAlta" delivers unprecedented color accuracy, referencing the color reproduction of Sony professional color monitors used in leading Hollywood studio productions.
Ultra smooth scrolling
Thanks to its 120Hz Refresh rate, the display offers incredibly smooth scrolling and seamless image transitions when you're browsing the internet or navigating the menu.
For music lovers
Hear music as it was meant to be heard
With audio tuned in collaboration with Sony Music Entertainment, the Xperia 5 III has been engineered to deliver a truly authentic listening experience, whether you're using headphones or the built-in Full-stage stereo speakers.
3.5mm audio jack for ultimate sound quality
Thanks to improvements to materials and electronic components, the 3.5mm audio jack on the Xperia 5 III not only offers convenience but also delivers high fidelity sound quality. Distortion is reduced, especially between mid and max volume, and that brings more realistic sound – with clear ensembles, smooth vocals, and deep basslines.
Like being there live with the artist
Immerse yourself in sound all around you, as real as if you are there at a live concert or with the artist recording in a studio. With 360 Reality Audio, music has never been so immersive and so real. And with the Xperia 5 III, you can enjoy the experience through wired or wireless headphones or the built-in Full-stage stereo speakers.
Turn your stereo music into immersive 360 Spatial Sound
If the music source you're listening to is 2-channel stereo, then new 360 Spatial Sound comes into play. It enables the Xperia 5 III to upmix your favourite stereo tracks into an immersive sound experience, in real time. The technology works with local audio files and streaming services to further enhance your listening experience.
Full-stage stereo speakers for powerful, high-quality sound
Positioned at the front of the phone, the Xperia 5 III features Full-stage stereo speakers to deliver immersive, high-quality sound when playing music or videos.
For mobile gamers
A wider view. Advantage you.
With its 21:9 CinemaWide™ display, the Xperia 5 III gives you a much wider view of the action – a major advantage in those close-fought contests.
Fluid motion with 120Hz
On the native 120Hz Refresh rate display, fast-moving objects are rendered clearly for seriously smooth gameplay.
Experience blur-free action
With 240Hz Motion blur reduction the display updates the image an incredible 240 times per second for blur-free action.
Strike first in the dark
An invaluable new gaming feature, L-γ raiser (Low gamma raiser) makes it easier to see your opponents in the dark. By enhancing image details in dark areas, it highlights your enemies without overexposing bright areas of the screen. So you can hit them before they hit you.
Overheating prevention
When using a charging cable for gaming, Heat Suppression power control powers the phone systems directly rather than charging the battery. This reduces thermal stress, helping to maintain gaming performance and keep your battery healthy for longer.
[A] OFF = high temperature [B] ON = low temperature
Optimized
 performance for gaming
The Xperia 5 III is optimized with Qualcomm® Snapdragon Elite Gaming™ for superior gaming performance.
Take control with a DUALSHOCK® 4 controller
For even more fun on-the-go, you can connect your Xperia 5 III with a DUALSHOCK®4 controller and play a range of Android games.
For filmmakers
Create movies the pros would be proud of
Record movies with similar parameters and color settings to the professionals. Expertise from our Digital Cinema Camera engineers, Look color management pre-sets, 21:9 ratio, 4K HDR, 120fps slow-motion, and 24, 25, 30 and 60fps give you all the tools you need.
Design
Power packed. Pocket sized.
The Xperia 5 III offers uncompromising power and performance yet it still fits perfectly in your hand and your pocket.
Slim, lightweight body houses a powerful battery
Despite measuring just 68mm in width and 8.2mm in depth, and weighing only 168g, the Xperia 5 III houses a powerful 4.500mAh battery.
Elegant and refined
Featuring mirror-effect glass on the back and a high quality metal frame, the Xperia 5 III comes in a choice of colors to reflect your style.
Built tough for everyday life
The Xperia 5 III comes with IP65/68 water resistance and dust protection, plus Corning® Gorilla® Glass 6 on the front and back, making it durable as well as beautifully designed.
For performance
All the speed you need
Combining 5G and Wi-Fi 6 connectivity with the latest Qualcomm® Mobile Platform and innovative battery technologies, the Xperia 5 III raises the bar for smartphone performance.
Experience the latest Qualcomm® Snapdragon™ 888 5G Mobile Platform
The Xperia 5 III  is powered by the Qualcomm® Snapdragon™ 888 5G Mobile Platform to deliver the premium experiences you deserve. Make the most of the Xperia 5 III  as a professional-quality camera, intelligent personal assistant, and elite gaming rig – all connected with truly global 5G multi-gigabit speeds.
A compact battery that's big on power
A large capacity 4.500mAh battery gives the compact Xperia 5 III plenty of power to get you through your day.
Easy content transfer from your old iPhone or Android device
The Xperia Transfer 2 app lets you transfer the content that matters from your old Android or iOS smartphone to your new Xperia 5 III. From photos, videos and music to your contacts, calendar, call history, and messages (SMS/MMS) – transfer them quickly, safely and easily.