GameSir X2 Pro-Xbox Mobile Game Controller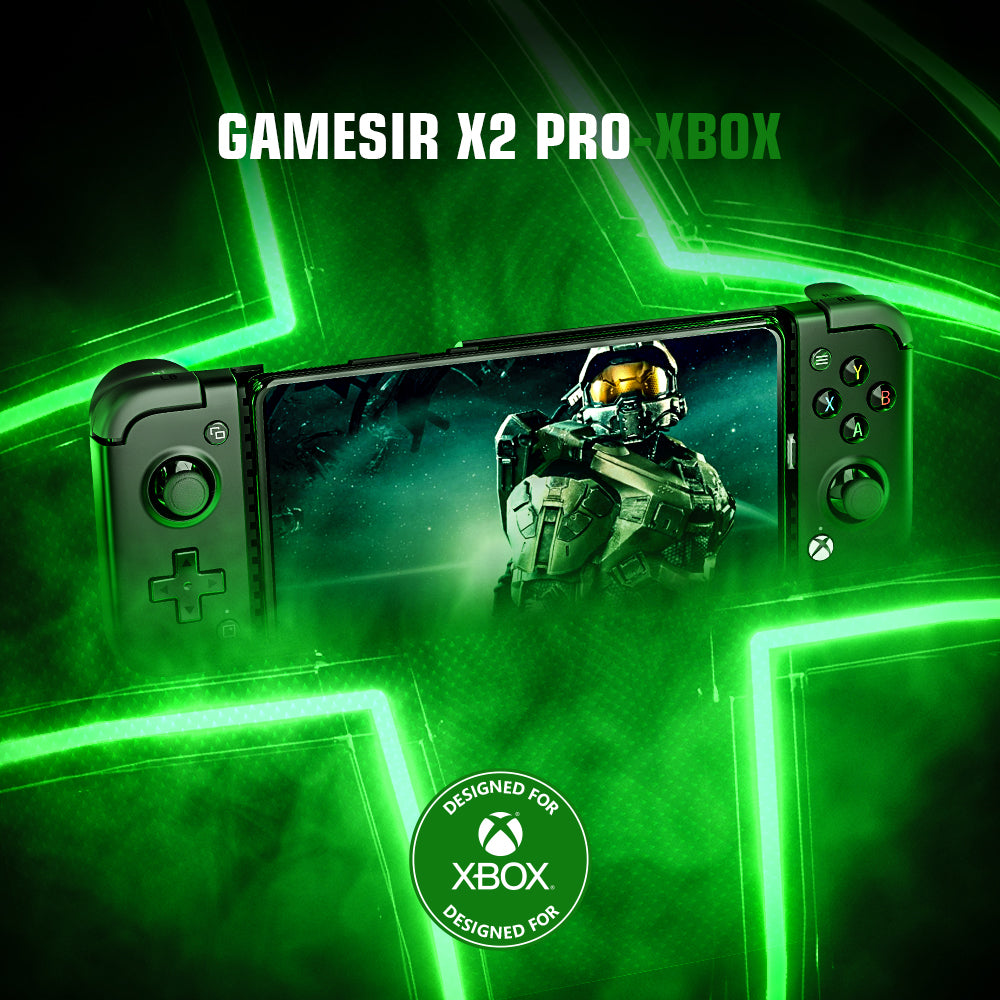 Officially licensed by Xbox for Android smartphones
Enjoy mobile games to the fullest with GameSir X2 Pro—an Xbox-quality mobile gaming controller. Specially designed for Xbox cloud gaming on Android smartphones, X2 Pro sports Hall Effect analog triggers, Kailh microswitch bumpers, Alps 3D joysticks, 2 mappable back buttons and textured rubber grips. Take AAA into portable gaming. X2 Pro perfects your mobile gaming experience beyond a console by making it happen anywhere, anytime, to anyone.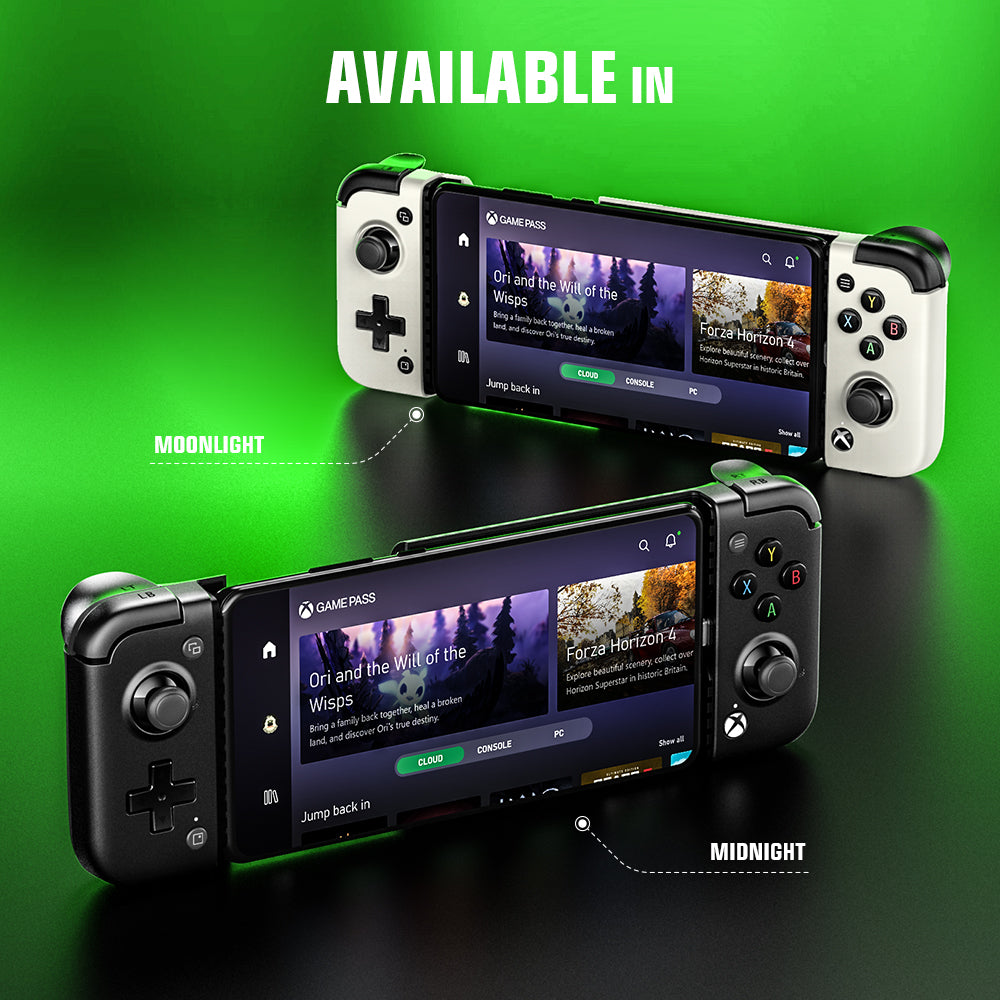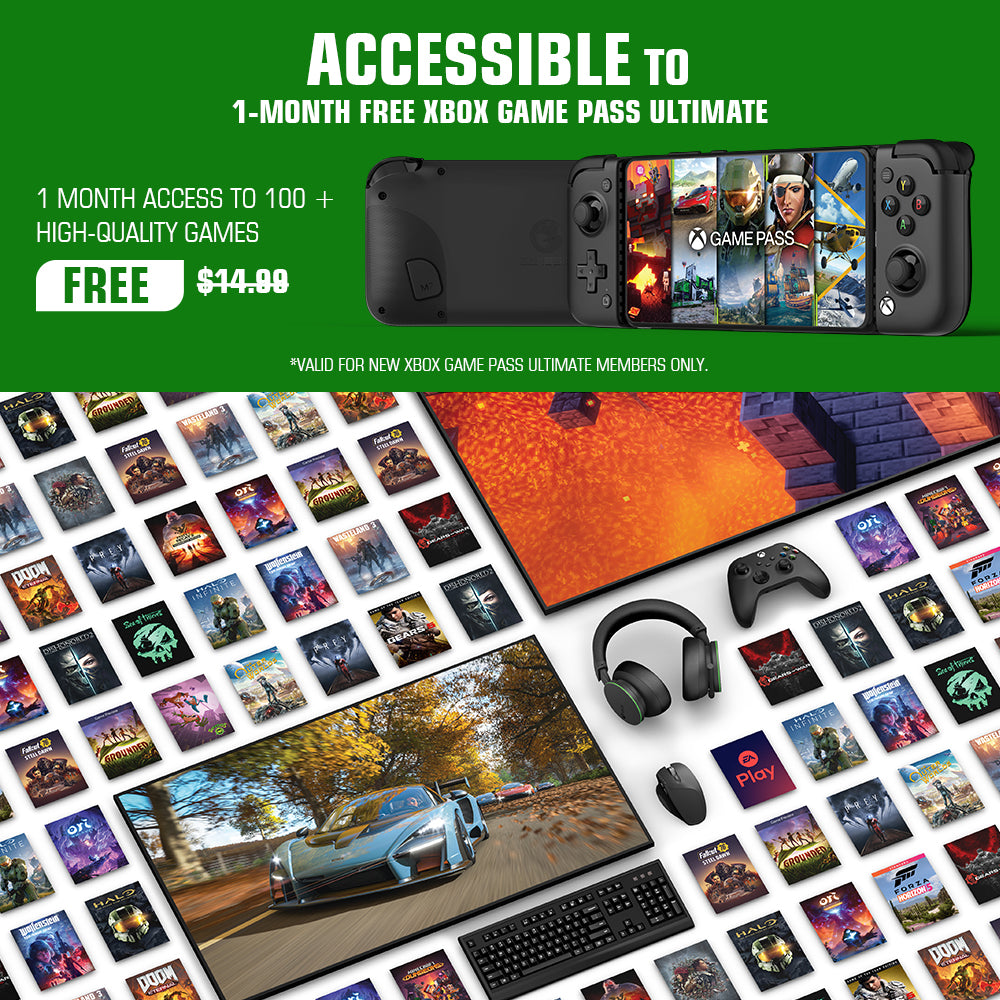 Include 1-monthfree Xbox Game Pass Ultimate:
Get 1 month of Xbox Game Pass Ultimate for FREE with X2 Pro. Directly dive into 100+ high-quality Xbox games right now.
*Valid for new Xbox Game Pass Ultimate members only. Credit card required. Unless you cancel, you will be charged the then-current regular membership rate when the promotional period ends. Limit: 1 per person/account.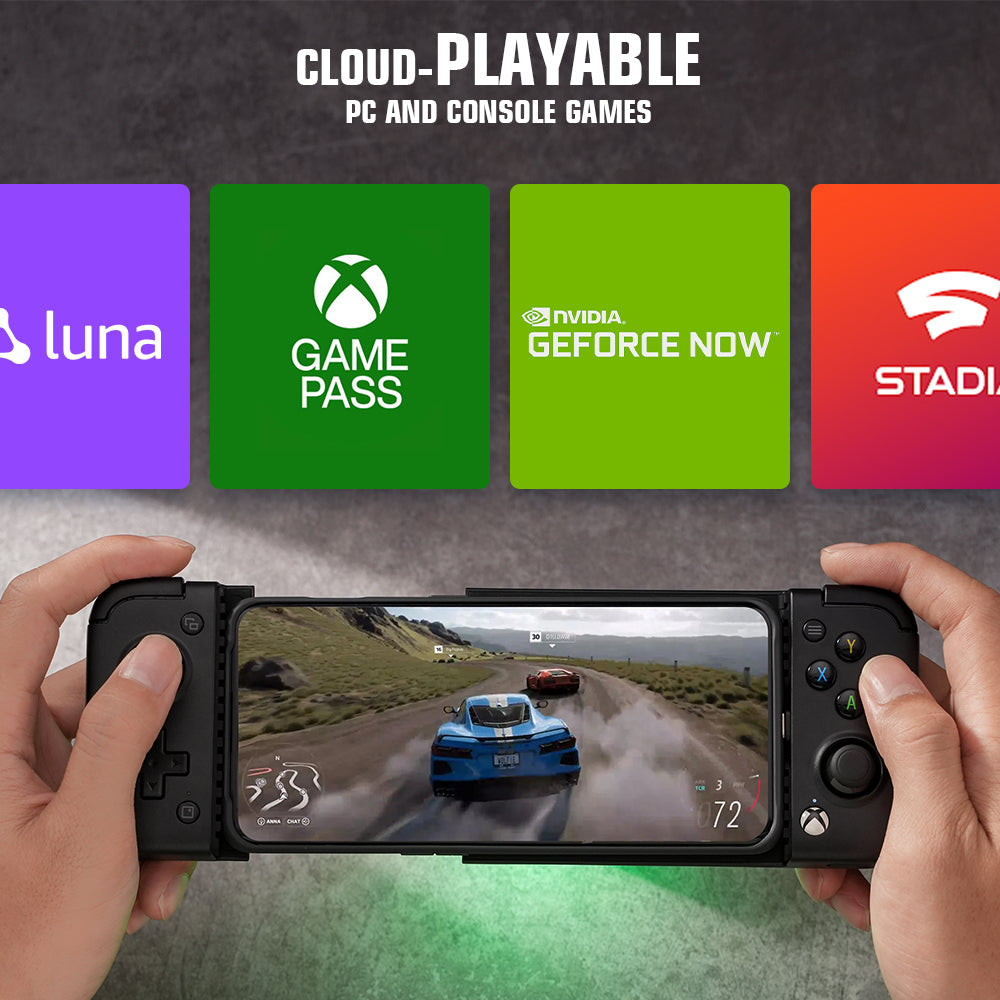 Play marvelous PC and console games from the cloud:
Use X2 Pro to enjoy marvelous PC & Console games in a more accessible but still competitive way, while without setting up a high-end PC or Console.
Support nearly all popular cloud gaming services such as Xbox Cloud Gaming (Beta) with Xbox Game Pass Ultimate, Stadia, NVIDIA GeForce Now and Amazon Luna.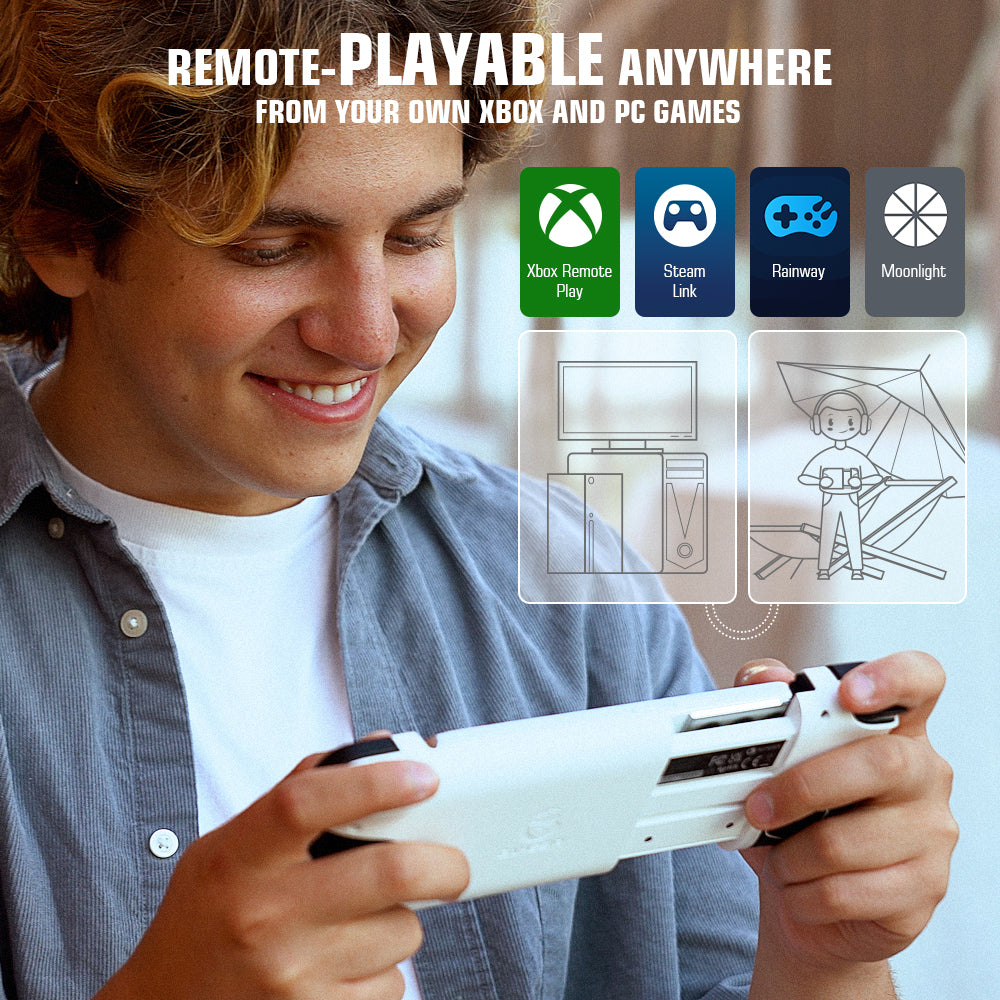 Remote Play your Xbox and PC anywhere:
Play remotely your Xbox and PC with X2 Pro while on your desired spot in the room or away from home.
Support nearly all popular remote streaming such as Xbox Remote Play, Steam Link, Rainway and Moonlight.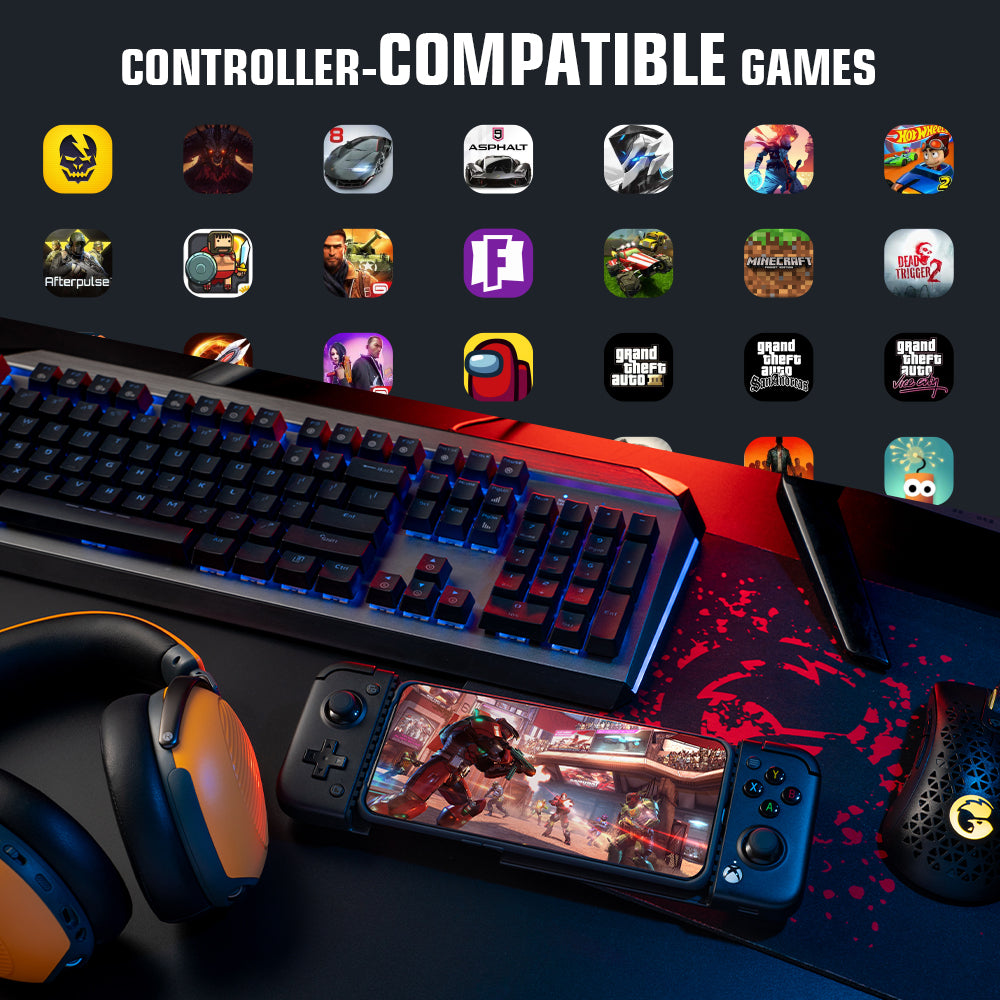 Play any controller-supported Android games:
Plug your phone into X2 Pro and jump right in any controller-supported games from Diablo Immortal to Fortnite, without having to suffering through clunky touchscreen controls.
Console-level controls:
A. Hall Effect analog triggers: Experience the smooth, perfect control of acceleration and brake in Forza Horizon 5 with the Hall Effect analog triggers, accurate to 0.1mm—Everything is in perfect control at your fingertips.
B. Alps 3D joysticks: Equipped with Alps 3D joysticks, X2 Pro gives you smooth, precise 360° control.
C. Kailh Microswitch bumpers: Designed with Kailh Microswitch bumpers, X2 Pro provides responsive and tactile feedback with a reduced actuation distance of 0.6 mm only, around 40% less than the normal membrane controller.
D. Instantly-mappable Back buttons: Designed for pro-level mobile gaming, X2 Pro comes with 2 additional back buttons so you can map your in-game valuable actions on the fly, even in the middle of the game. Program and use instantly, no need for software.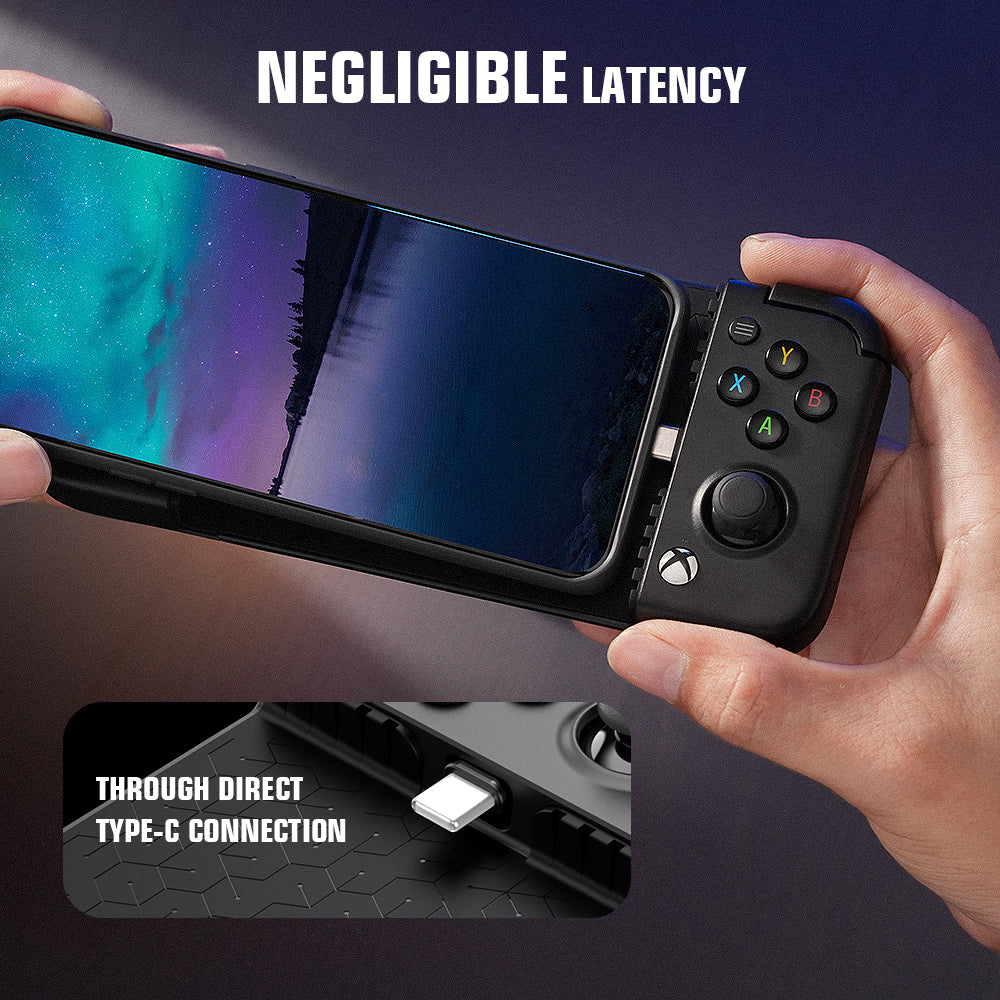 Direct Type-C connection, Negligible input latency:
By connecting to your phone through the direct Type-C port, X2 Pro ensures negligible input latency without wireless signal delay.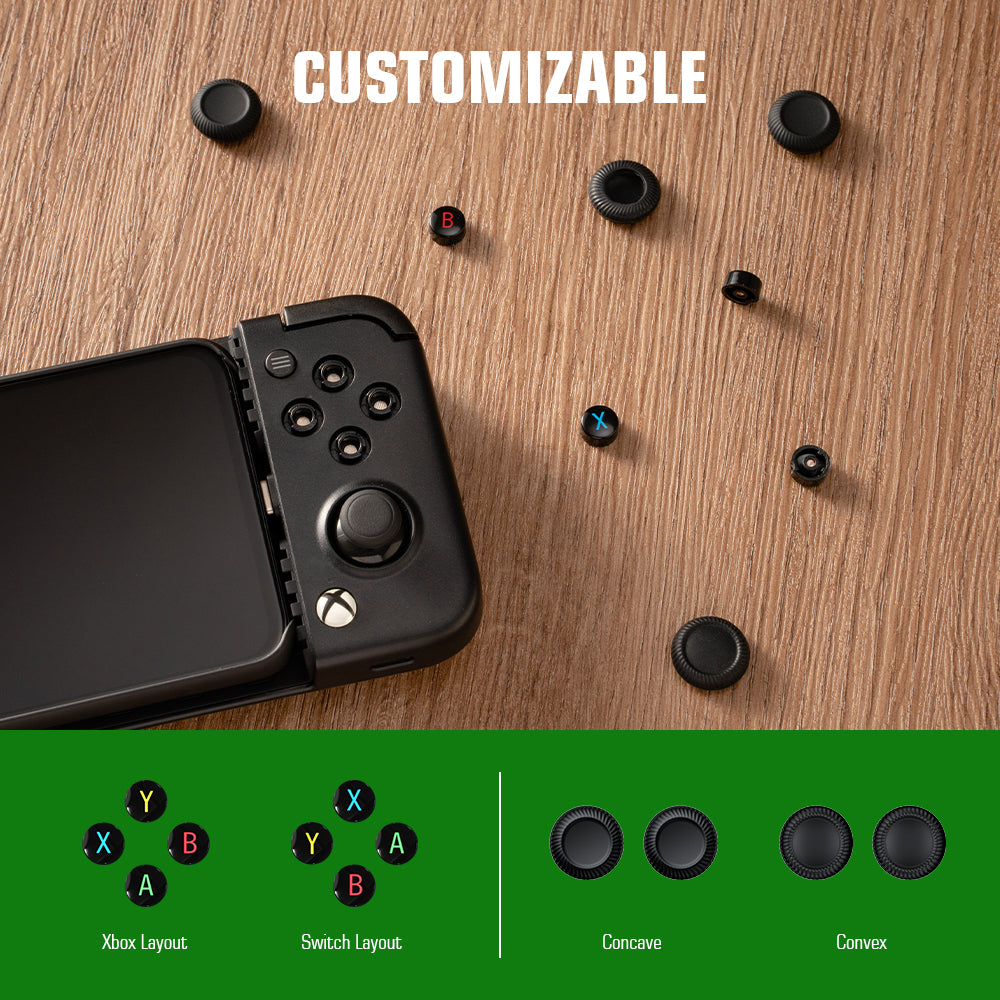 X2 Pro offers customization options from interchangeable ABXY buttons to joystick caps. Therefore, different gamers can tailor it to their own playstyle in different games and play at their best.
For satisfying different gamers' playstyle, we specifically used magnetic and detachable design on ABXY buttons so that gamers can swap the layout between the standard Xbox ABXY layout and Switch one, with just a simple pull. (Need to also select relevant layout in GameSir App.)
X2 Pro comes with 2 sets of joystick caps—concave & convex—to match your playstyle & comfort.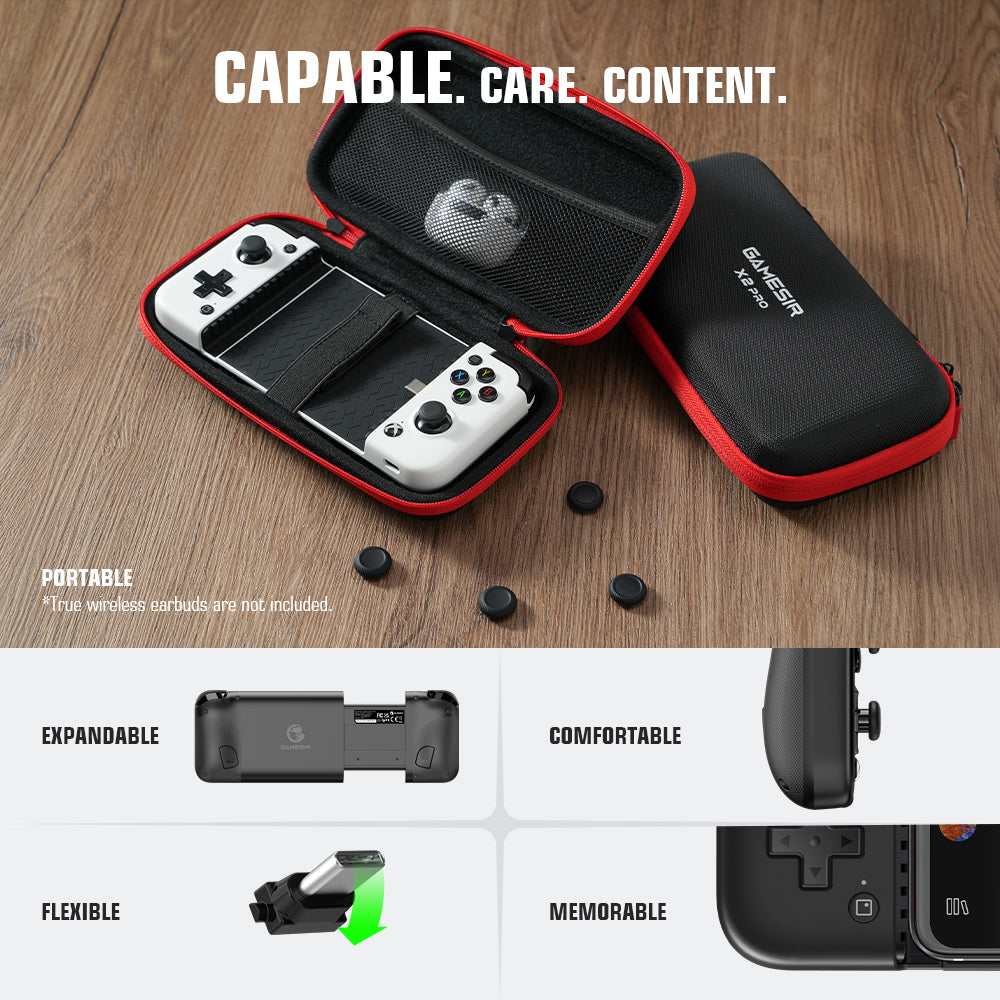 Capable. Care. Content:
X2 Pro not only focuses on being Capable, but also Caring, to make you Content.
Following the same expandable & stable design of X2 series, X2 Pro fits most Android phones if they are 110-179mm in length.
Designed for extended gameplay, you may find the textured rubber grips are too comfortable to put down.<
The rotatable Type-C port makesplug-in not stiff but more flexible for your phone. Just tilt and slot, easy and worry-free.
Featuring one-click capture, X2 Pro allows you to have easy access to your valuable in-game actions.
Come with the classic X2 series carry case so that you can pack X2 Pro with your essential gaming accessories into one case, be they wireless earbuds or power bank, and no matter as a home decoration while home gaming or a protective storage case while on-the-go gaming.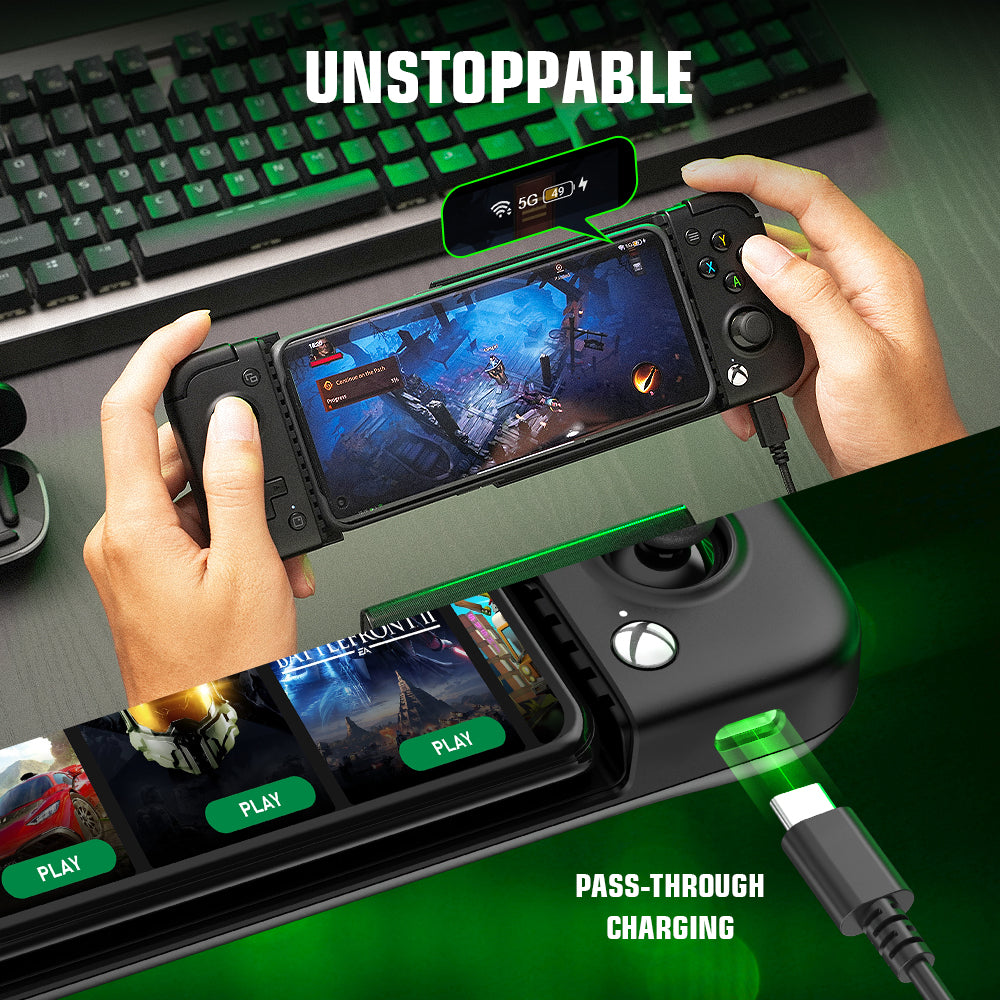 Pass-through charging:
Designed to enjoy unstoppable gaming experience, X2 Pro offers pass-through charging for playing while charging.
Notes: Only some Android phones are supported pass-through charging. Below is a brief list of compatible & incompatible phones as a quick reference. Please be noted that the list isn't exhaustive due to numerous phones in the market and our limited ability to test all phones. Other phones may or may not work for pass-through charging on X2 Pro.
Compatible with pass-through charging:
Black Shark 2, Black Shark 3, Google Pixel4 XL, HONOR V30 Pro, HUAWEI Mate 40 Pro, HUAWEI P40, HUAWEI P40 Pro, Realme GT2 Pro, Samsung Note10, Samsung S20, Smartisan Nut 3 , Sony Xperia 1, vivo iQOO, vivo iQOO 3, Xiaomi Mi 9, Xiaomi Mi Mix 3, Xiaomi MIX 4, etc.
HONOR 10, HUAWEI nova 9 Pro, HUAWEI P50 Pro, OnePlus 10 Pro, OnePlus 6, OnePlus 7T, Oppo Reno, Realme X2 Pro, REDMAGIC 7 Pro , Redmi K30 Pro, etc.
Discover more to play in GameSir App:
Built to find and play games easier with X2 Pro, the refreshed GameSir App is a gaming destination that you can explore the latest and popular games from multiple platforms as Xbox Game Pass, Google Play, Stadia and Nvidia GeForce Now on smartphones. Meanwhile, GameSir App allows you to configure and customize controller settings on the fly, such as ABXY Layout swap and Controller Testing. All in one place—GameSir App.