GameSir X3 Type-C Peltier-Cooled Mobile Gaming Controller
With the advent of mobile gaming & cloud gaming, many mobile gamers are looking for more accessible mobile accessories for a pro-level mobile gaming experience, be they a physical controller or a phone cooler. However, due to the less ergonomic space for equipping phones, gamers always have to compromise with the left potentially annoying problem after suffering through decidophobia. Luckily, GameSir find a win-win solution—to hybrid. That's where Gamesir X3 Type-C is born.
As a wired controller & cooler in 1, Gamesir  X3 Type-C delivers console-like experience while solving overheat problem in your phone simultaneously. With 4000 mm² cooling area and 7-blade fan for superior airflow, it can efficiently cool down your phone once plugged in. Designed for pro-level gaming, bumpers, triggers, ABXY buttons and D-pad all come with Kailh switches, ensuring crisp tactile feedback so that you may forget that it's playing on the phone while the Alps analog thumbstick allow for smooth, precise 360° control.
More importantly, there are more ways to customize it to YOUR controller with various, interchangeable parts as D-pad, thumbstick and thumbstick caps. Gaming is Winning. If you don't want compromise, try X3 Type-C and let it lead you to the next-gen mobile gaming ecosystem.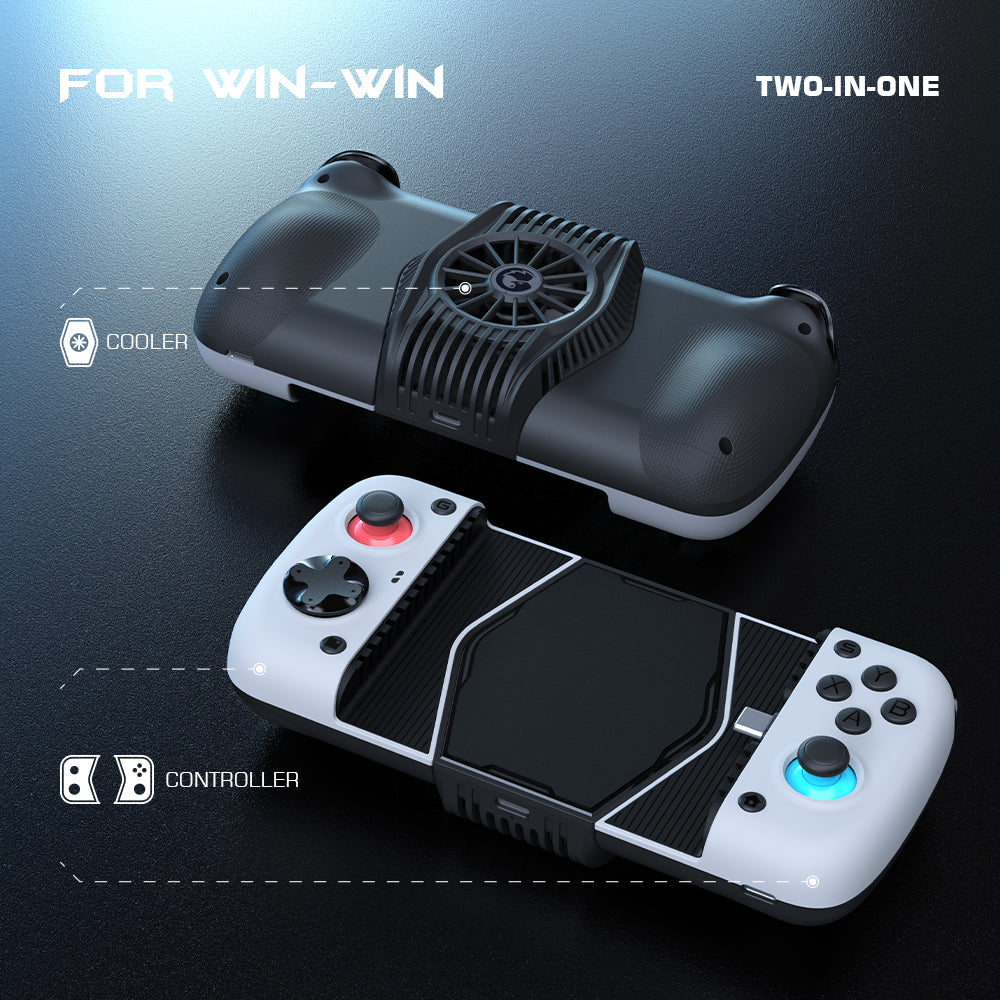 Controller & cooler in 1
A controller, or a cooler for mobile gaming? This has been a long-time question due to the less ergonomic space for equipping phones. Hesitantly, mobile gamers have to choose and use only one while gaming.
However, being a controller & cooler in one, GameSir X3 Type-C makes it not a painful dilemma any more by simultaneously delivering console-style control experience and preventing your phone from thermal throttling and lagging during GPU demanding games as Fortnite. Just 1 device, but get 2 experience-controller & cooler.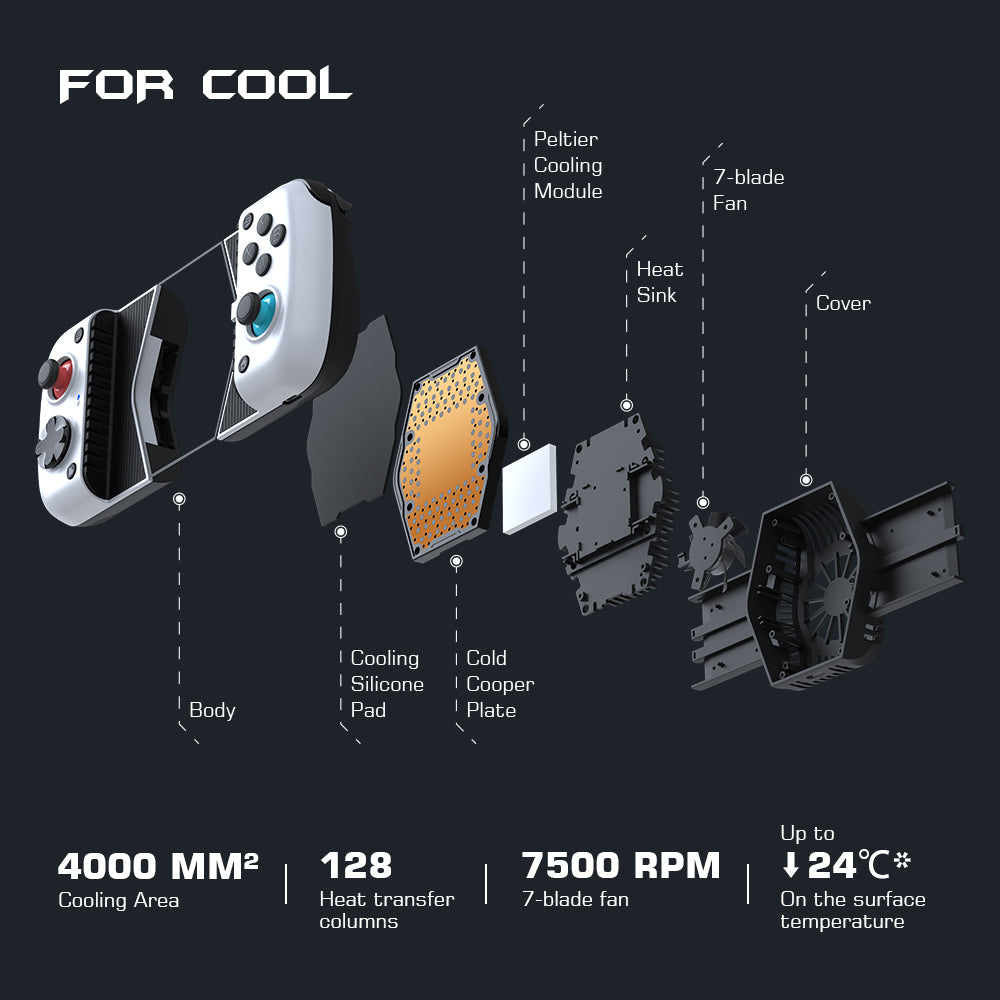 Up to 24°Cdrop on the surface temperature
Based on Peltier cooling effect, Gamesir  X3 Type-C comes with a 4000 mm² cooling area on the face, providing large-area and ultra-fast cooling performance. 128 heat transfer columns help fast absorb heat from the Peltier module while the 7-blade fan spins at 7500 RPM for superior airflow.
With this powerful engineered system, Gamesir  X3 Type-C can even deliver a 24°C drop on the phone's skin temperature. The fan also comes with noise-reduction design and runs at 32dB only.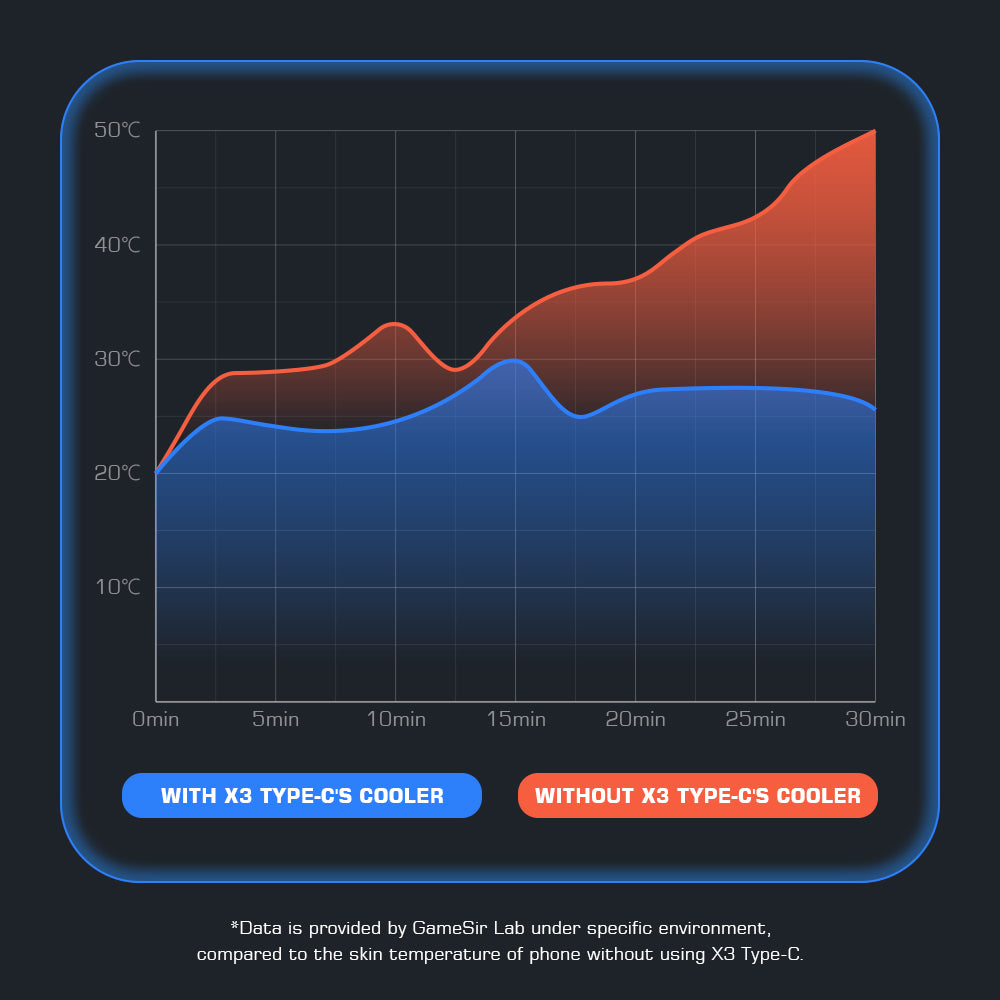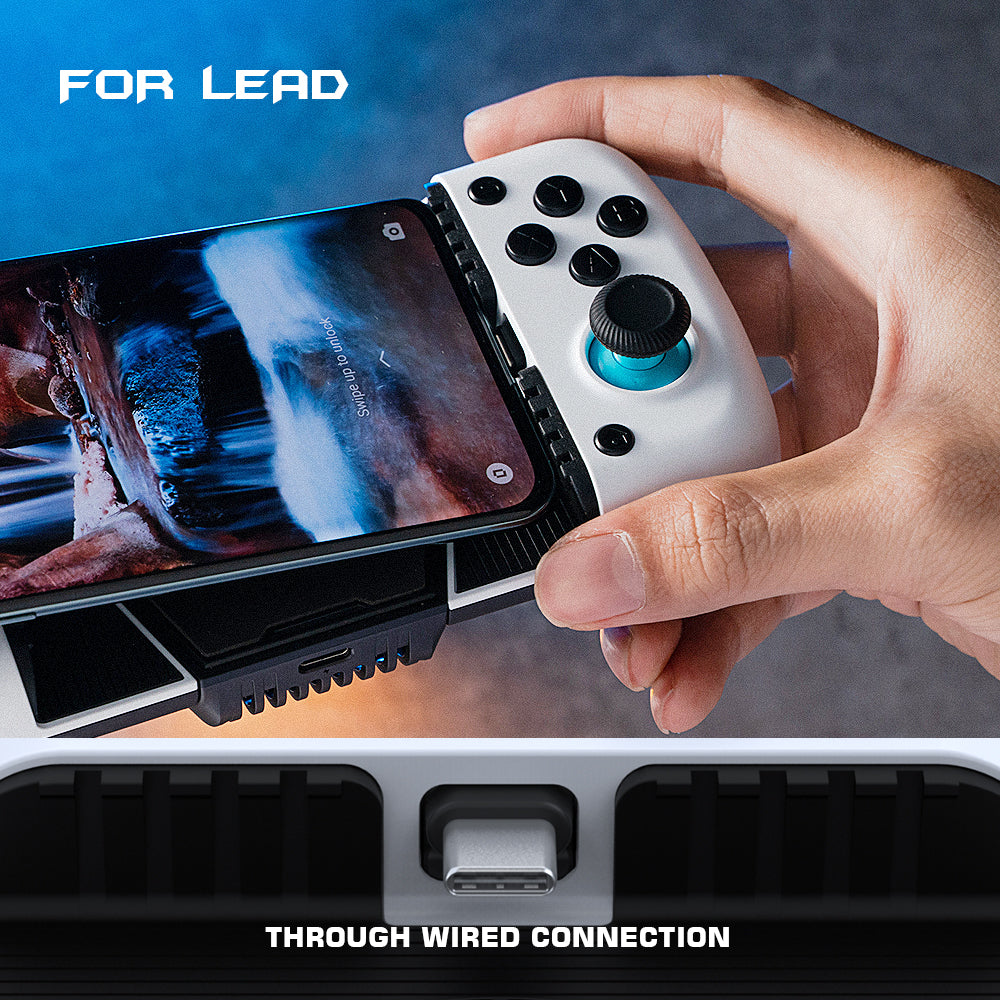 Zero input delay
Gamesir  X3 Type-C directly connects to your Android phone through the Type-C port, allowing extra fast response of your on-screen character once buttons are pressed. Because of no wireless signal delay, it helps you keep any possible edge over the competition.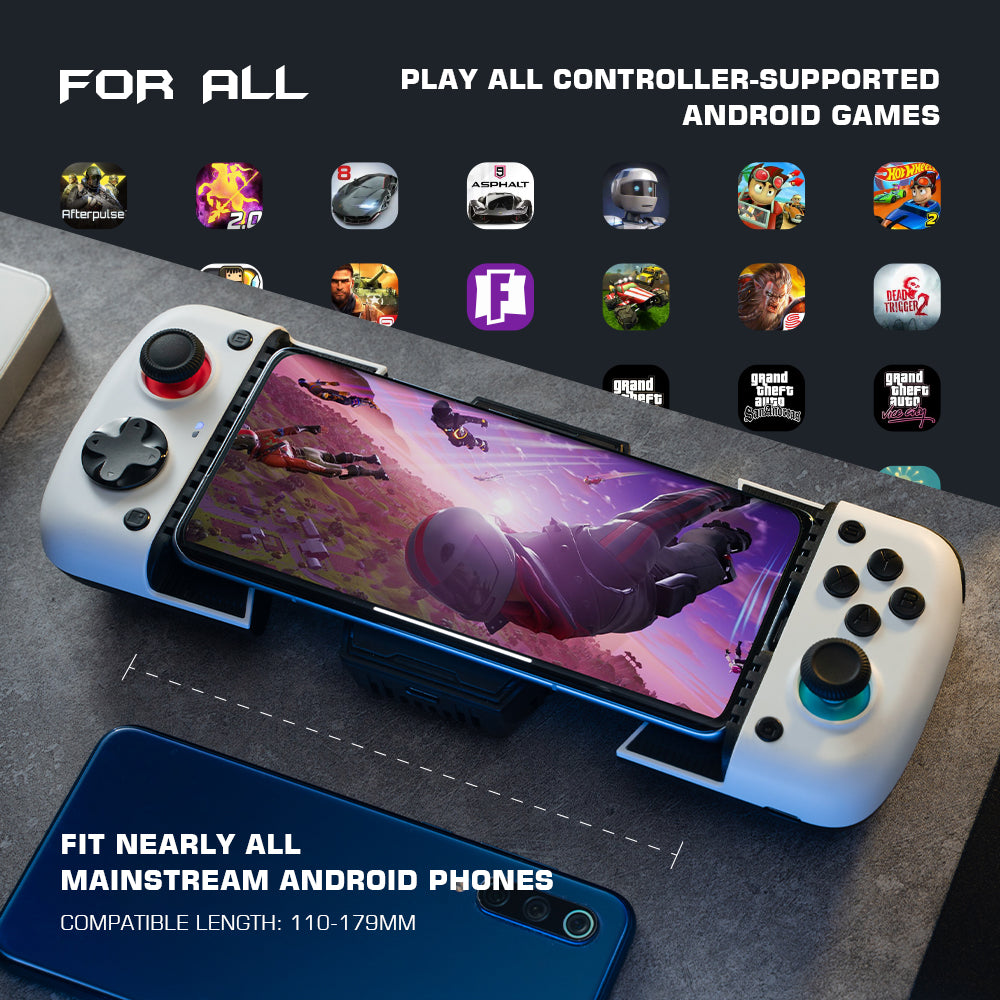 Play all controller-supported Android games
Clumsy, cumbersome swipe controls have never been more annoying as mobile games are becoming gradually complex, even console-grade. Luckily, Gamesir  X3 Type-C is the answer to that problem. Plug your phone into Gamesir  X3 Type-C and directly play every controller-supported games from Fortnite to Minecraft, without having to suffering through clunky touchscreen controls.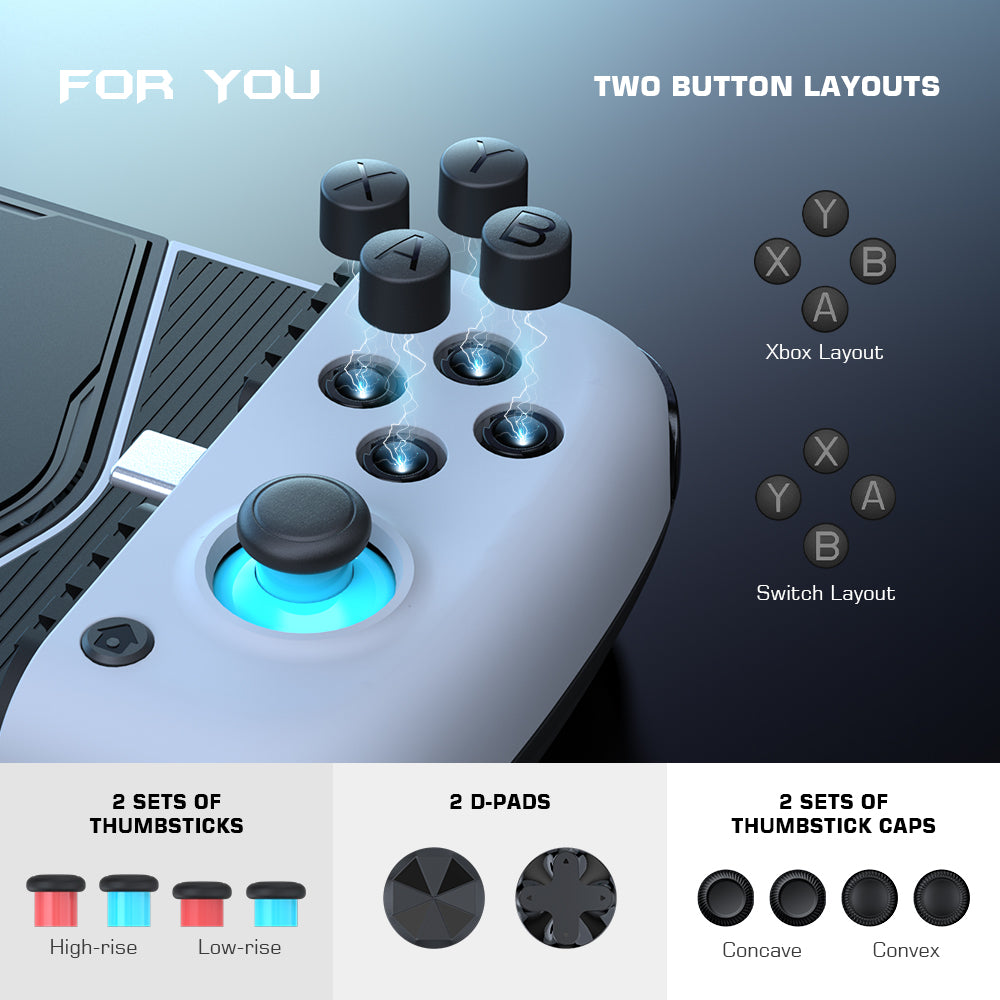 Unlimited customization
Customize and command in your way. Gamesir  X3 Type-C features unlimited customization with many interchangeable parts from ABXY buttons to D-pad and thumbstick to thumbstick cap. Therefore, different gamers can tailor it to their own playstyle in different games and play at their best. Use Gamesir  X3 Type-C and build your own controller now.
–2 ABXY layouts: 
Console battle never ends. Some gamers stick to the traditional, classic home-based gaming consoles as Xbox and PlayStation while others' 1st console directly go for the more innovative Switch console, for both on-the-go and home gaming. In this case, for satisfying different gamers' control habits, we specifically used magnetic and detachable design on ABXY buttons so that gamers can swap the layout between the standard Xbox ABXY layout and Switch ABXY layout, with just a simple pull.
2 sets of thumbsticks: 
There are 2 sets of thumbsticks, one set for low-rise and the other for high-rise. Choose your preferred and get the ultimate in-game advantage with your thumbs.
2 D-pads: 
X3 Type-C's directional pad is available in 2 shapes, Standard and Faceted. Easy to swap any time and customize to your playstyle.
*When replacing D-pad & thumbsticks, you need to press them for fixation after aligning the slot.
2 sets of thumbstick caps:
Featuring concave & convex thumbstick caps, X3 Type-C gets you covered after a simple cover on the thumbsticks.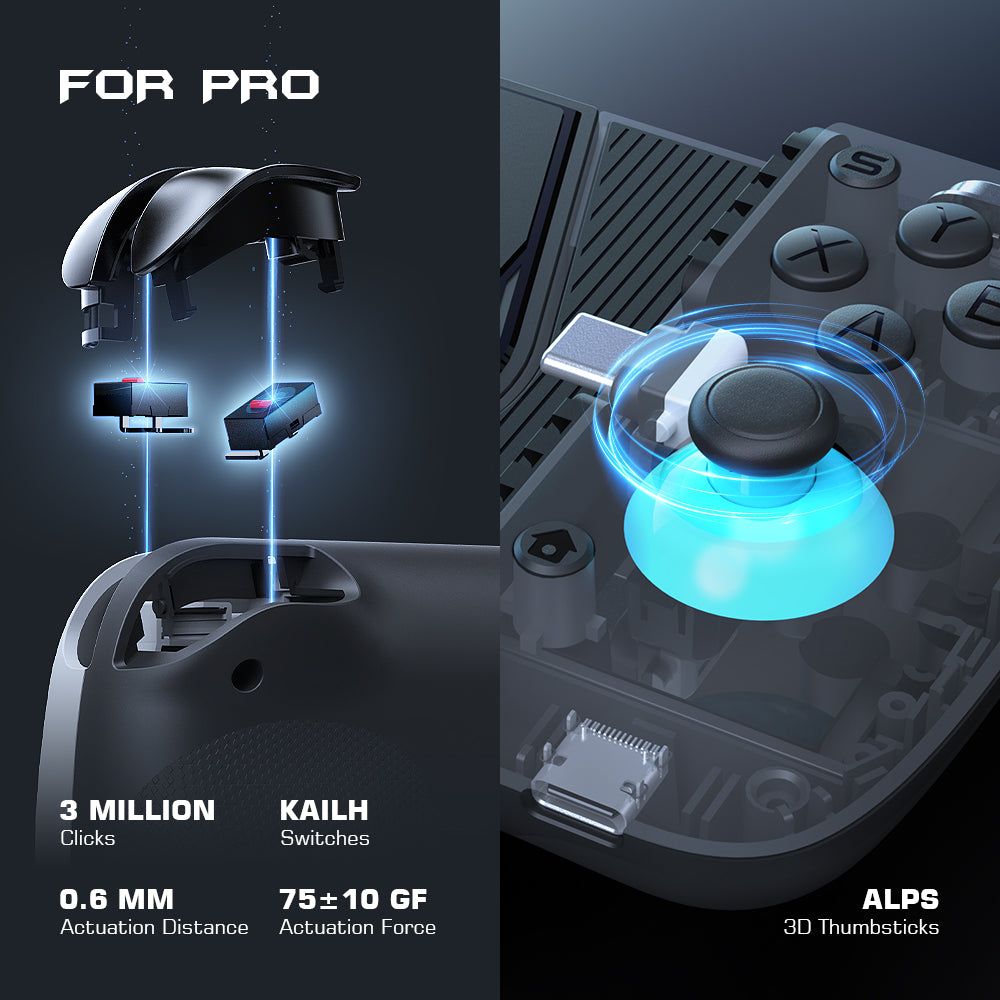 For pro gaming
–Kailh switches, up to 3 million clicks:
ABXY buttons, bumpers, triggers & D-pad all come with Kailh switches. With a reduced actuation distance of 0.6 mm only, around 40% less than the normal membrane controller, the buttons can be clicked, then triggered instantly so that you can achieve fast response and agile movement as a pro. Besides, the crisp tactile feedback enables you to forget that it's playing on the phone, just like mouse clicking.
–Alps 3D joystick: 
Equipped with Alps 3D joysticks, Gamesir  X3 Type-C gives you smooth, precise 360° Besides, clickable L3/R3 buttons give additional input options for play, so you can enjoy an enhanced gaming experience.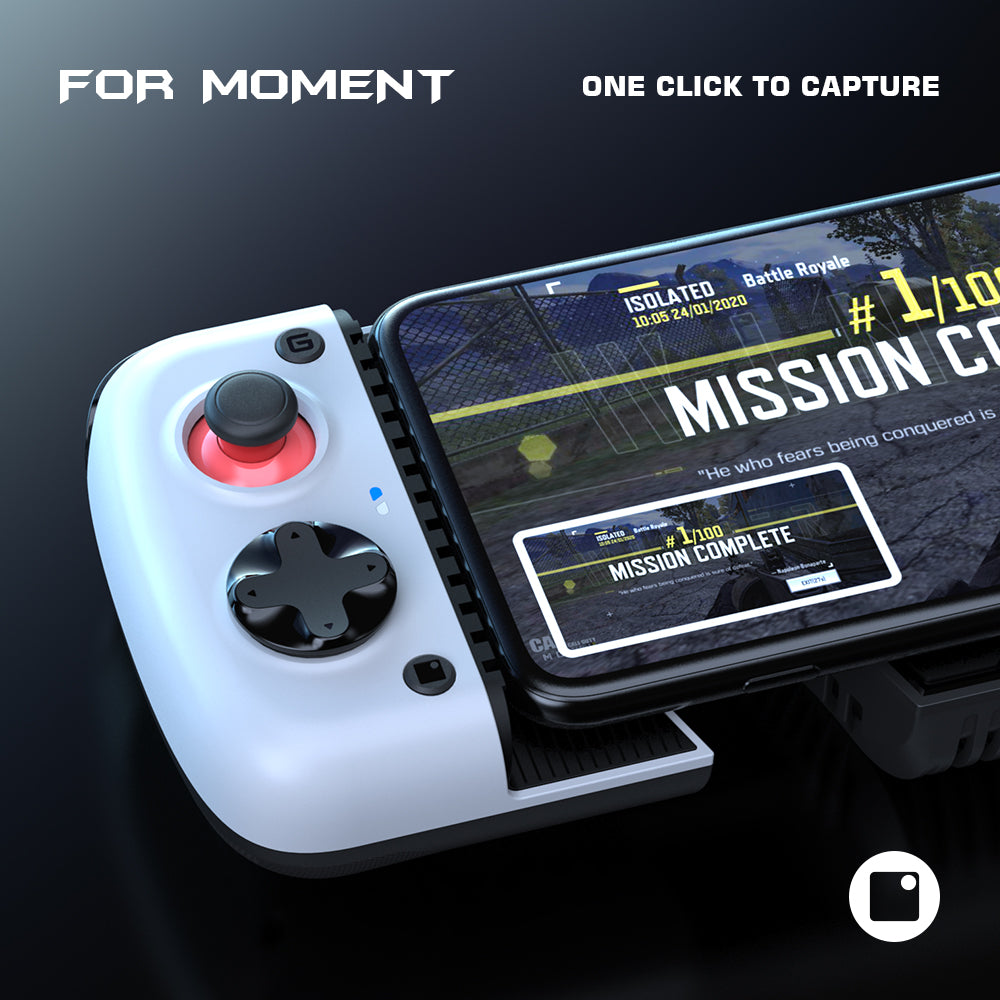 One click to capture
Memory's always get us grow up, be they delightful or disappointing.
X3 Type-C's one-click capture allows you to capture any awesome or muffed moment for later retrospective.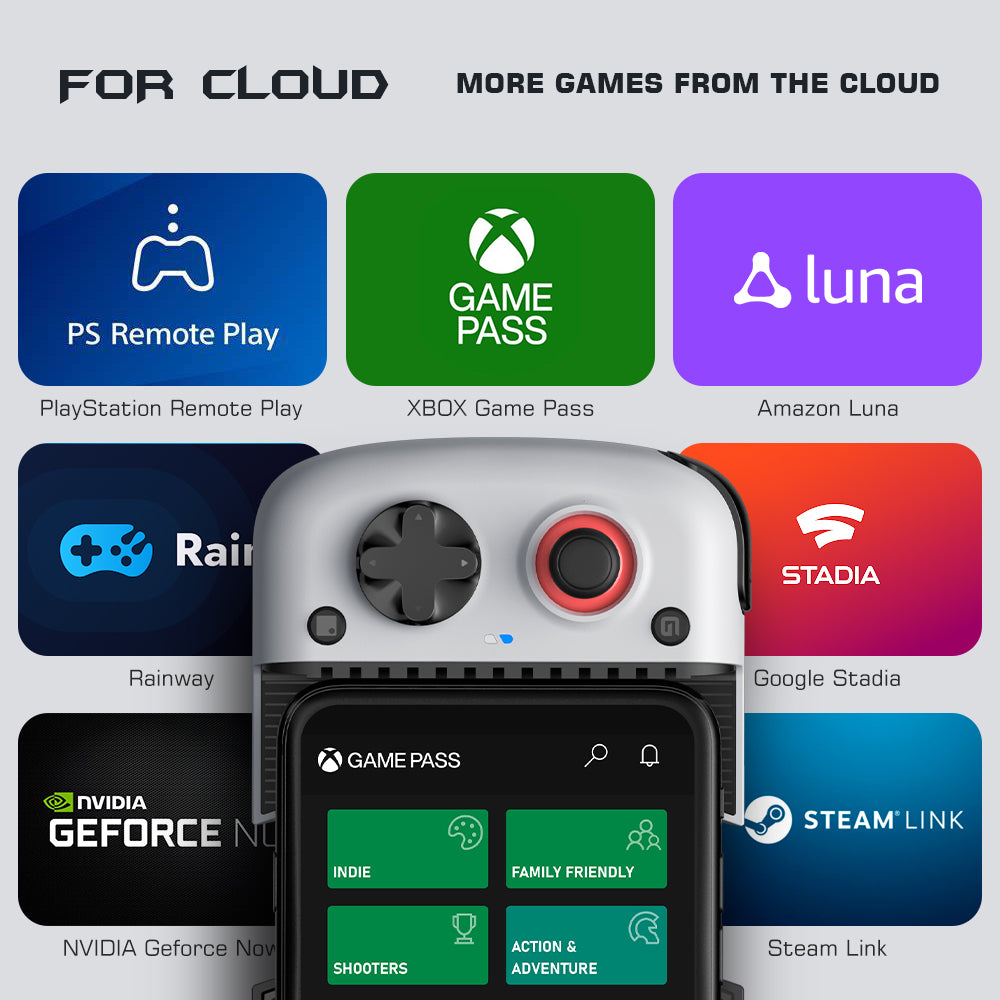 Cloud gaming compatible
With the availability of plenty of cloud gaming service, gamers are able to enjoy console games without owning one. Certainly, X3 Type-C is also up to this by supporting nearly all popular cloud gaming services such as Xbox Game Pass, Amazon Luna, Stadia, NVIDIA GeForce Now, Steam Link, Sony PlayStation Now.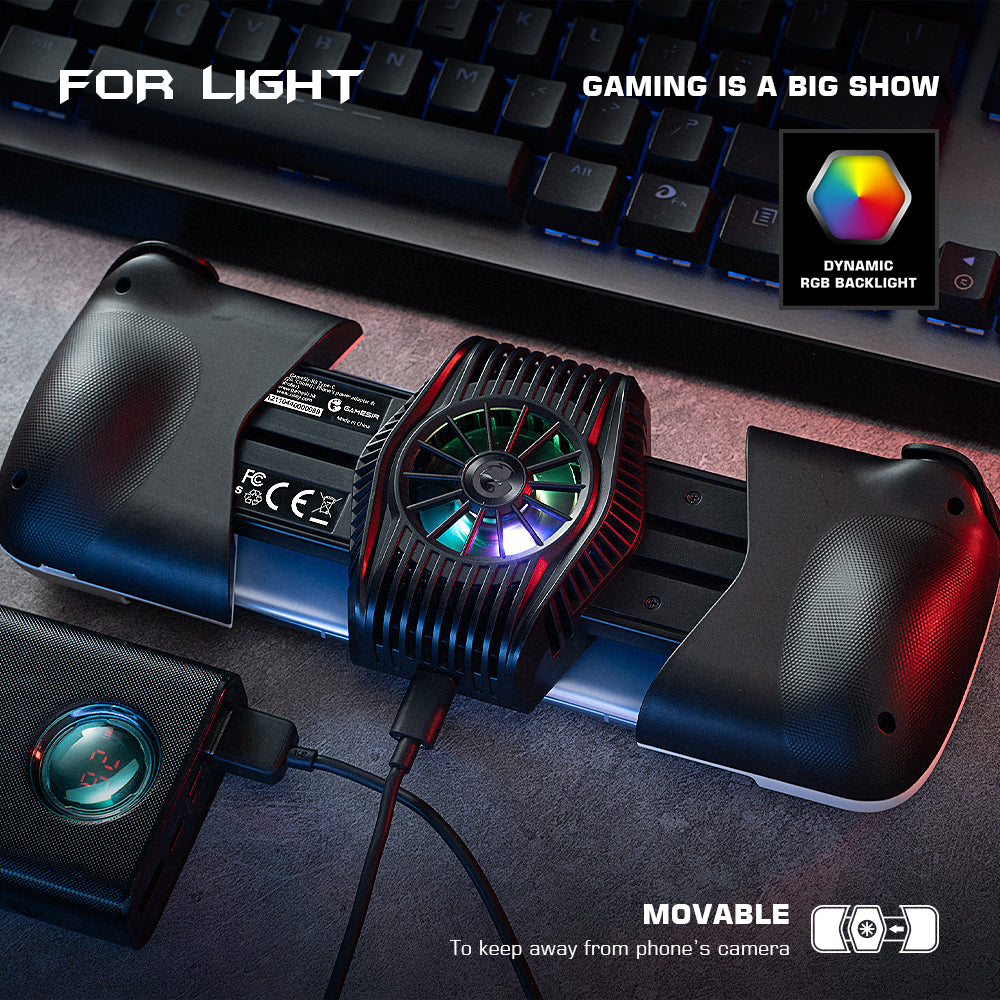 Dynamic RGB backlight:
Gaming is a big show. Once the cooler is plugged-in, the back cooling fan works with simultaneous dynamic RGB backlight, just like a RGB gaming monitor. At the moment, your controller is not just functional, but also beautiful and recognizable.
*Cooling fan can be moved on most phones so that you can keep fan out of camera if the fan touches your camera.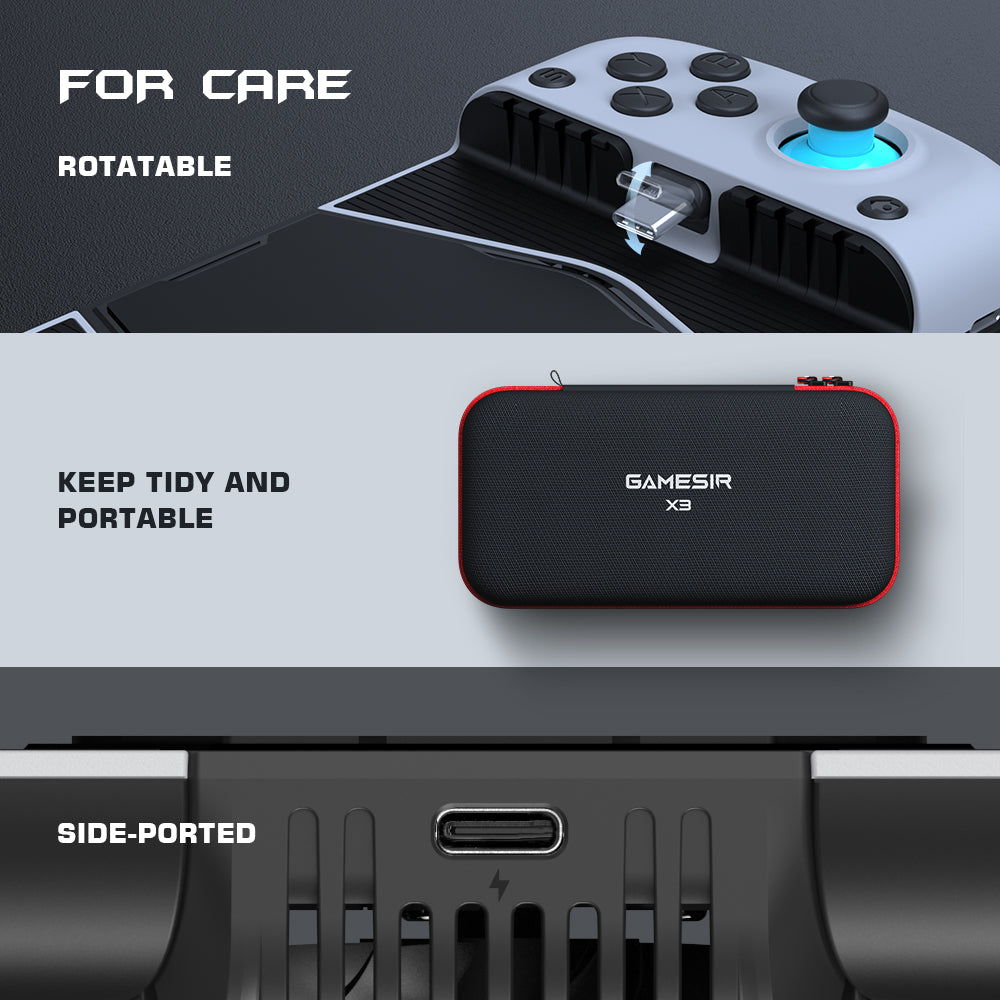 Care for comfort:
Gaming setup also needs comfort to conquer, as office setup. X3 Type-C certainly also cares for comfort.
-Up to 51° rotatable Type-C port:
Care for your phone. Make plug-in not stiff but more flexible for your phone. Just tilt and slot, easy and worry-free.
–With Carry case:
Care for storage & protection. Come with a compact yet elegant carry case so that you can organize all its accessories in one case, no matter as a home decoration while home gaming or a protective storage case while on-the-go gaming.
–Side-mounted port for cooler:
Care for your hands. The cooler's Type-C port is side-mounted so the power cable of cooler won't get in your way of gaming.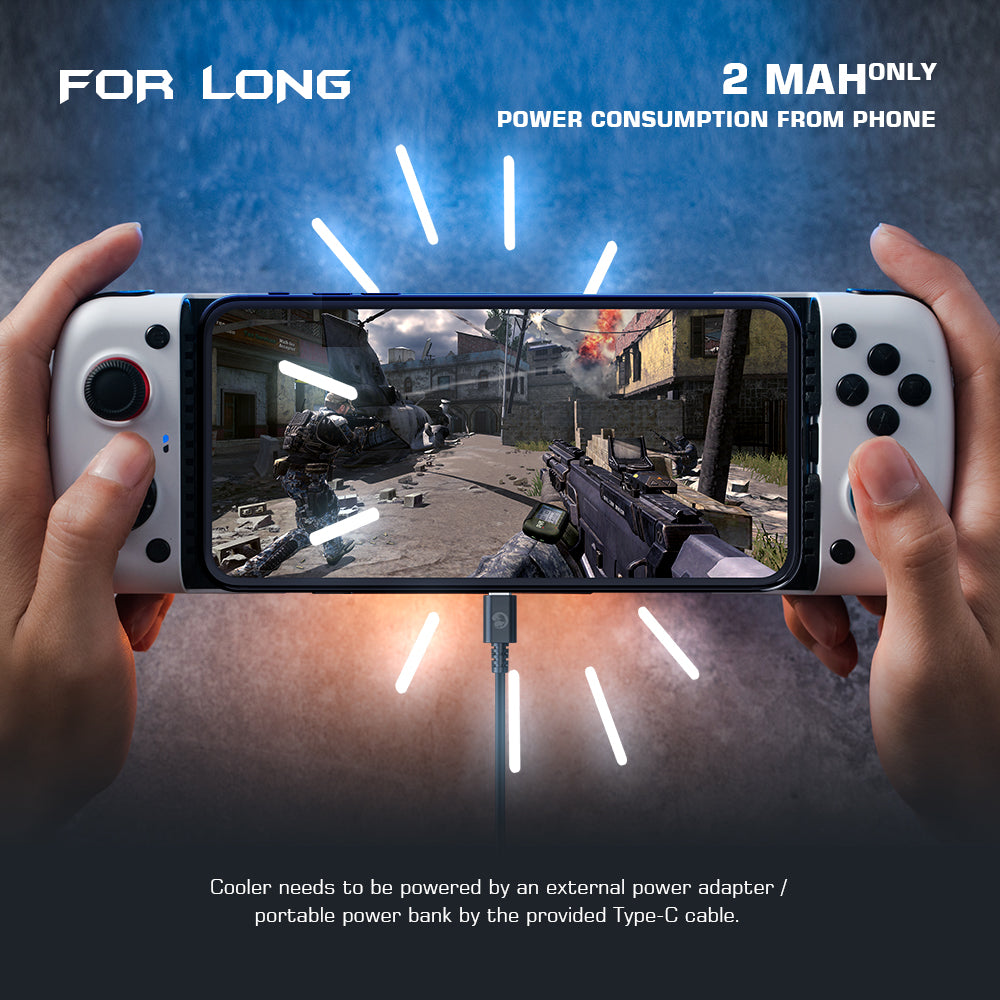 2 mAh ultra-low power consumption
With no built-in battery design and weighing only 270 g (0.6 lbs), it's more eco-friendly and travel-friendly for on-the-go gaming. Despite no battery and powered by your phone, X3 Type-C has ultra-low power consumption at 2mAh only for long-time gaming . Calculated by a mobile phone battery of 3000 mAh, X3 Type-C consumes only six ten-thousandths of its power per hour. Meanwhile, the cooler is powered by an external power source, without consuming your phone's battery.