GOOGLE PIXEL TABLET
Help in your hand. And at home.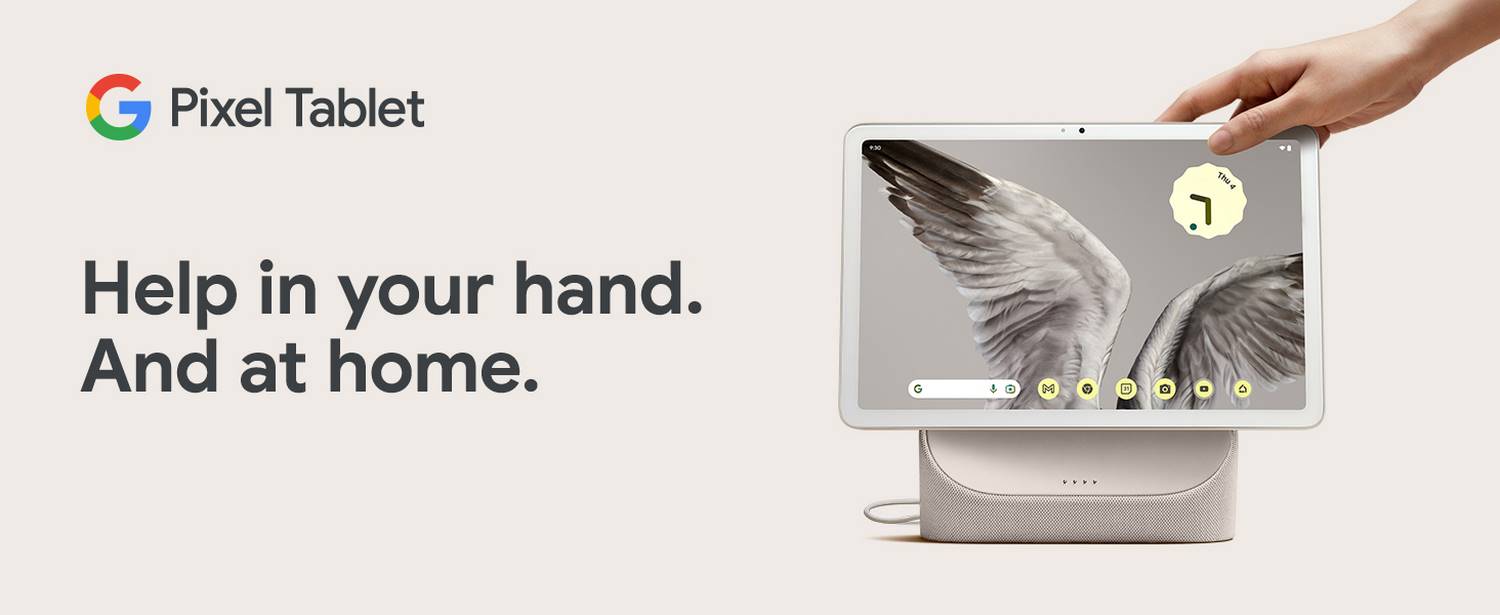 Meet the Pixel Tablet.
It's engineered by Google to be more helpful at home. The Charging Speaker Dock keeps it charged 24/7 and doubles as a speaker that delivers room-filling sound. And it's all powered by the Google Tensor G2 chip.
Google Chipset
Google Tensor G2
Stream video and music and make your smart home easier to manage with the Google Pixel Tablet. It comes with a charging speaker-dock, so you can easily control any compatible smart devices with your voice. The proprietary Tensor G2 processor chip, 8GB of RAM, and a 10.95-inch display deliver fast functionality and a comfortable viewing experience.
Speaker Dock
The charging dock that's also a speaker.
Place your tablet on the Charging Speaker Dock for great-sounding music and video streaming.
Entertainment
Ready to entertain.
Enjoy your favorite entertainment with the gorgeous 11-inch screen and four speakers.
Android Experience
The best way to experience Android on a tablet.
The Android apps you love are optimized for your Google Pixel Tablet's larger screen.
Google TV
Find your favorites with Google TV.
With Google TV built in, you can easily browse and watch shows from your favorite apps.
Chromecast
The only tablet with Chromecast built in.
It comes with Chromecast, so you can cast content from your phone in just a few taps.
Homecontrol
Take care of your home.
Easily control compatible lights, locks, and cameras on the home panel.
Hands-Free Help
Get help, hands-free.
Just say "Hey Google" to play music, set timers, control your smart home devices, and more.
Split Screen
Seamless multitasking.
The easy-to-use Split Screen lets you view two apps side by side.
Battery
Extra long battery life.
The battery can last for hours, and it's easy to charge up with the Charging Speaker Dock.
Nearby Share
An easier way to share with nearby devices.
Nearby Share lets you securely share content between your tablet and other nearby Android devices.
More than just a simple tablet
Google hasn't made a tablet in years, but now it's back with the Tablet, a device that may have a simple name, yet presents a number of use cases. The 11-inch display is the centrepiece of a device that can be ready for streaming the latest and greatest content, as well as acting as a smart home hub when you set it up the right way.
Bright, vibrant and with excellent colour, the screen is ideal for taking the best shows and movies with you wherever you want to watch them. You get either 128GB or 256GB of storage when you want to store apps, games, photos, video and offline streaming content to view anytime. With the best of Android at your fingertips, this device was built to entertain, inform and interact.
It's also uniquely designed with sustainability in mind. There's a nano-ceramic coating that almost looks and feels like porcelain with a textured matte finish to complement it. There are over 30% recycled materials in the Tablet, plus an aluminum enclosure that's also made from 100% recycled content.
Mount it on the Dock
The Google Pixel Tablet can come bundled with the Speaker Dock, an accessory that uses a magnetic base to mount the tablet when you lay it on top. Put together, the Dock wirelessly charges the Tablet, and also plays any audio you want to hear because it doubles as a speaker. If you have multiple Docks at home, you can attach the Tablet to any of them to get the same features and experience in another room.
While docked, the Google Pixel Tablet can turn into a digital photo frame to display images from your Google Photos library, where you can also set it to display the photos you want instead of a random selection. Additionally, it gives you a home panel to control all smart home devices, including a live view of connected security cameras from the lock screen or Quick Settings menu.
Google Assistant can always listen for commands anytime, be it to play music and video, or to answer questions you may have about things you want to know. It also enables you to control smart home devices by voice. Even if you unplug the mount, you can utilize it as a stand to watch some video or as a support display on a desk.
Ready for anything
The 8-megapixel front camera is positioned to make HD video calls easier, adjusting the brightness to make you more visible, including in low-light conditions. Google's Tensor G2 chipset brings powerful performance that works seamlessly with Android for an optimized experience.
That includes a first for an Android tablet, which is that it has a built-in Chromecast itself. Not only can you cast content from the Tablet, you can also cast content to the Tablet from a Pixel phone, simplifying moving from the small screen to the big screen.
Use Tensor's power to edit photos for amazing results, like the way Magic Eraser can remove unwanted people or objects, or how Photo Unblur aims to bring sharpness to otherwise blurry images. These features work with any photos you have stored in your Google Photos library, so the Google Pixel Tablet gives you a flexible route to make magic happen with your favourite images.