BLACK SHARK MAGCOOLER 3 PRO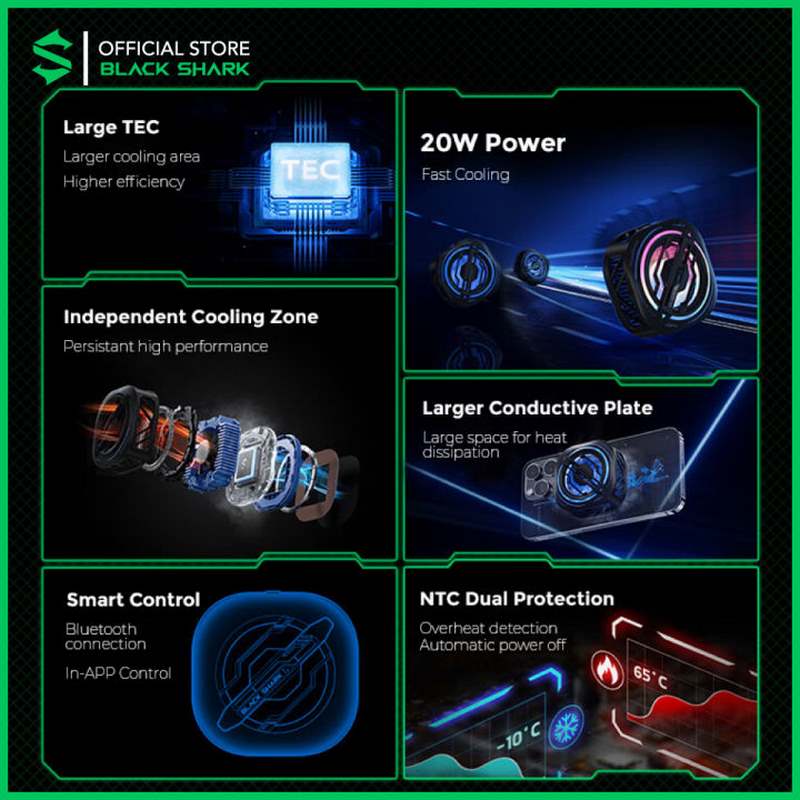 1. Rapid Cooling to 35°C: Black Shark MagCooler 3 Pro utilizes advanced cooling technology to rapidly lower the temperature of your phone by up to 35°C, ensuring optimal performance during intense gaming sessions or heavy usage.
2. Instant Cooling to Freezing Point in 30 Seconds: With its powerful cooling capabilities, the Black Shark MagCooler 3 Pro can quickly bring down the temperature of your phone to freezing point within just 30 seconds, providing effective heat dissipation.
3. Quick Cooling: It features fast cooling capabilities, capable of bringing down the temperature of your phone to near-freezing levels in a short amount of time, ensuring sustained cooling for prolonged gaming sessions.
4. Unique Design: The magnetic design allows for easy attachment to the back of your phone, and its sleek appearance and LED lighting effects enhance the gaming experience while adding a touch of style.
Note:iPhone 12/13/14 series direct magnetic suction,
Android/tablet/Nintendo Switch magnetic suction sheet adsorption.
5. Smart Connectivity: It connects to your phone via Bluetooth, enabling you to control and customize the cooler using a dedicated mobile app, providing a personalized user experience.
6. Multiple Protection Mechanisms: It incorporates NTC dual protection, over-temperature protection, and automatic power-off features, ensuring safety and stability during usage.