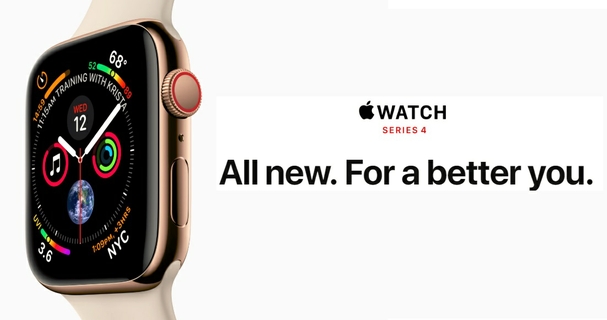 All-new Design: Not Just Evolved, Transformed.
Introducing Apple Watch Series 4. Fundamentally redesigned and re-engineered to help you stay even more active, healthy, and connected. The largest Apple Watch display yet. New electrical heart sensor. Re-engineered Digital Crown with haptic feedback. Entirely familiar, yet completely new, Apple Watch Series 4 resets the standard for what a watch can be. Series 4 represents a fundamental redesign and re‑engineering of Apple Watch. From the curved corners of the larger, all‑new display to the architecture of the S4 chip, every detail has been thoughtfully considered. Apple Watch has always been a uniquely personal product. And now it's even more powerful.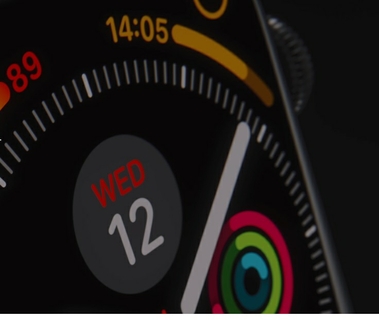 The Largest Apple Watch Display Yet. This Is Huge.
The display is the defining feature of Apple Watch, and Series 4 pushes it further than ever. The challenge was to make it bigger without noticeably increasing the size of the case or compromising the battery life. Narrower borders enable a viewing area that's over 30% larger, while a new display technology called LTPO improves power efficiency, helping you get through the day on a single charge.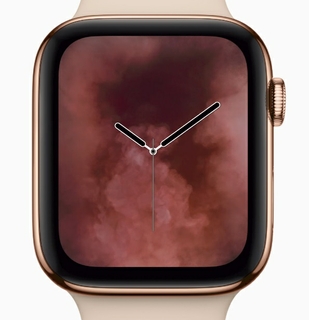 A Better Experience All The Way Around.
Curved corners precisely match the radius of the case, creating a more pleasing, continuous appearance. This also allows imagery and the touch surface to extend to the farthest reaches of the screen.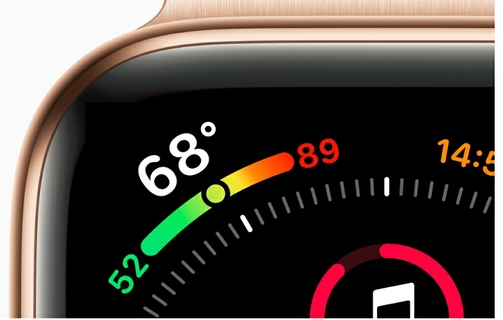 More Information In Every Millimeter.
To take full advantage of the new dimensions of the display, the entire interface has been redesigned to provide more information with richer detail. The new Infograph watch face can accommodate up to eight complications, so you can see more and do more at a glance.
Infographics watch face with: Air Quality Index, UV Index, Heart Rate, Activity, Music, Workout, Breathe, Weather
Infographics Modular watch face with: Calendar, Weather, Activity, Music, Breathe, Heart Rate
Infographics watch face with: Stop Watch, Alarm, World Clock, Timer, Sunrise/Sunset
Infographics Modular watch face with: Calendar, Weather, Heart Rate, Breathe, Air Quality Index, Workout
Infographics watch face with: UV Index, Air Quality Index, Weather, World Clock, Solar, Earth, Sunrise/Sunset, Moon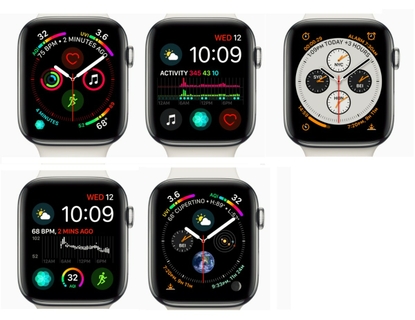 Digital Crown. A Breakthrough Reborn.
The Digital Crown was invented to provide an easy way to navigate on Apple Watch without obstructing the display. With Apple Watch Series 4, the mechanism has been totally re‑engineered. Haptic feedback now delivers a precise, click-like feel as you scroll. And a titanium electrode built into the top allows you to use the ECG app simply by touching it with your finger.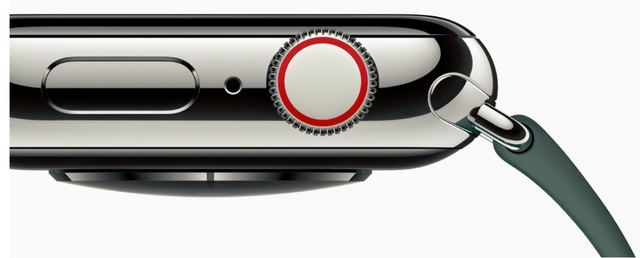 Proactive Health Monitor: Part Guardian, Part Guru.
ECG on your wrist. Low and high heart rate notifications. Fall detection and Emergency SOS. New Breathe watches faces. It's designed to improve your health every day and powerful enough to help protect it. Apple Watch Series 4 inspires you to live a healthier life by helping you manage everything from everyday stress to calories burned. At the same time, it monitors your heart rate and lets you know if it detects something of concern. And that sense of security now goes a step further with fall detection and Emergency SOS. The new Apple Watch has your back — as well as your heart.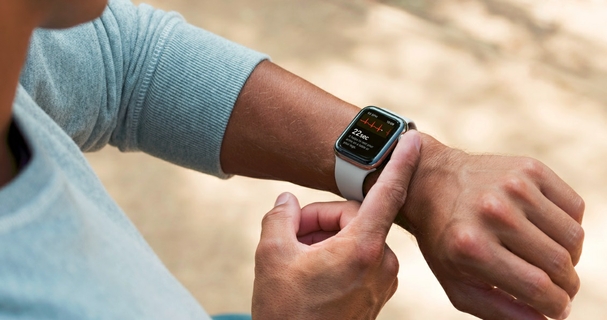 ECG On Your Wrist. Anytime, Anywhere.
Apple Watch Series 4 is capable of generating an ECG similar to a single-lead electrocardiogram. It's a momentous achievement for a wearable device that can provide critical real-time data for doctors and peace of mind for you.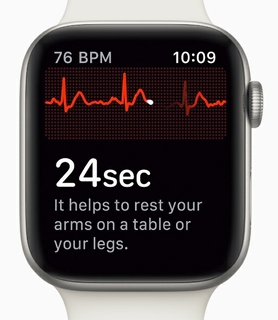 Your Finger Can Tell You A Lot About Your Heart.
Electrodes built into the Digital Crown and the back crystal work together with the ECG app to read your heart's electrical signals. Simply touch the Digital Crown to generate an ECG waveform in just 30 seconds. This data can indicate whether your heart rhythm shows signs of atrial fibrillation — a serious form of irregular heart rhythm — or sinus rhythm, which means your heart is beating in a normal pattern.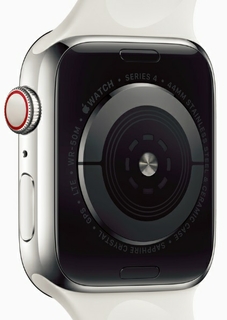 Electrical Sensors Read The Beats.
Each beat of the heart sends out an electrical impulse. With the ECG app, Apple Watch Series 4 can read and record these impulses by connecting the circuit between your heart and both arms. The resulting ECG waveform, its classification, and any notes you've entered on related symptoms are automatically stored in the Health app on your iPhone. You can share them with your doctor and have a better-informed conversation about your health.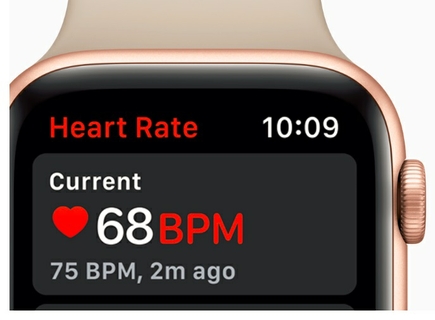 Track All Your Health Data In One Convenient Place.
All your heart data, as well as information from your health and fitness apps, is collected in your iPhone Health app. Activity, sleep, mindfulness, and nutrition are highlighted there in one snapshot.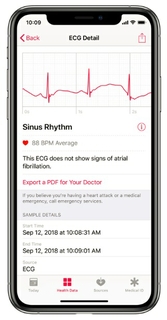 Ultimate Workout Partner: Workouts That Work Harder.
Automatic workout detection. New yoga and hiking workouts. Advanced features for runners like cadence and pace alerts. See up to five metrics at a glance as you precisely track all your favorite ways to train. Apple Watch Series 4 is more than just a sports watch. It's like a trainer that understands the ways you work out — from running to yoga to swimming — and puts every metric you need right on your wrist. With innovations from start to finish line, it's made for the athlete in us all.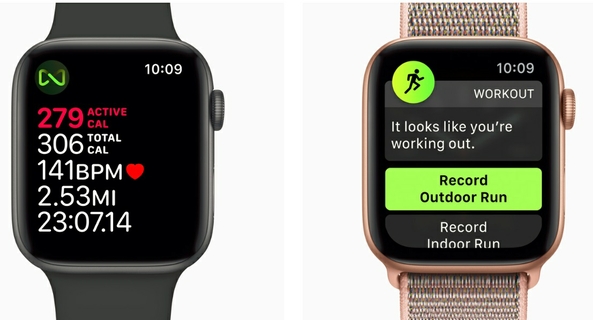 Ready For Whatever Moves You.
Whether it's training for a marathon or swimming laps at the pool, Apple Watch Series 4 has something for everyone. Now including yoga and hiking, the Workout app works every way you want to exercise. You can set individual goals, measure your calorie burn, and track your progress over time in the Activity app on your iPhone. Ready? Go.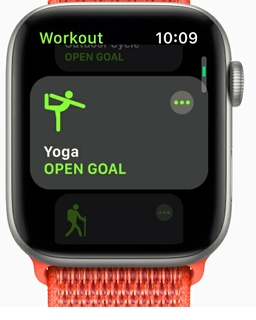 Big Steps Forward For Runners.
With a gentle tap, new pace alerts let you know whether you're ahead of or behind where you want to be. The new cadence metric lets you see your steps per minute. And rolling miles allows you to see your split for the preceding mile at any time.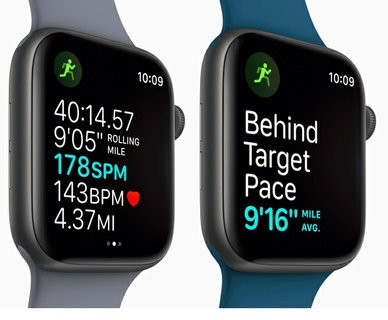 Music And Podcasts To Keep You Moving.
Whether it's an album or playlist from Apple Music, an episode from Apple Podcasts, or a track from Beats 1 radio, you can stream all the motivation you need, right from your watch.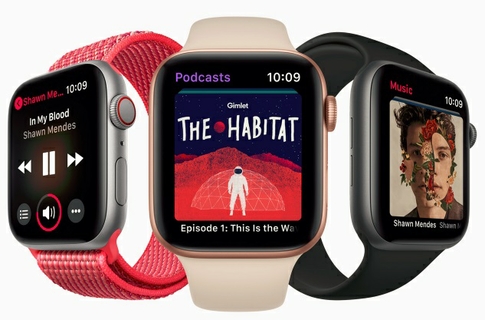 Comprehensive Activity Tracker: Made To Motivate.
Understanding all the ways you move throughout the day is an essential part of living a healthy life. Apple Watch shows your daily movement as three simple metrics: Move, Exercise, and Stand. Together they make up the Activity rings that track your progress all day long. The goal is to close your rings each day.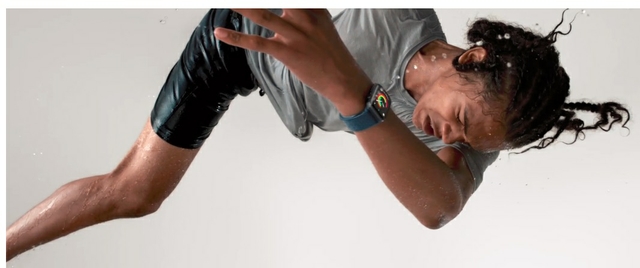 Challenge Yourself By Challenging A Friend.
Apple Watch lets you share your activity progress from the trail, the track, or even the surf lineup. And now, new Activity competitions let you invite a friend to a seven-day contest where you earn points based on the percentage of your daily Activity rings you close.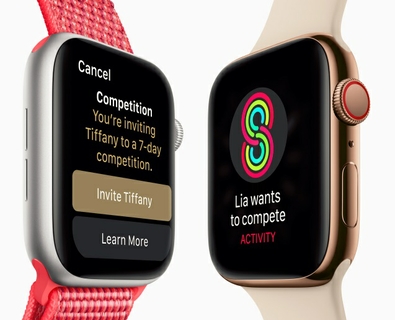 A Little Coaching Goes Far.
During a competition, notifications will tell you if you're ahead of or falling behind your competitor, along with the score. So you'll know exactly how much you need to move to take home bragging rights. And like a personal trainer, Apple Watch will give you a nudge to close your rings at the end of each day, as well as offer up a new challenge each month.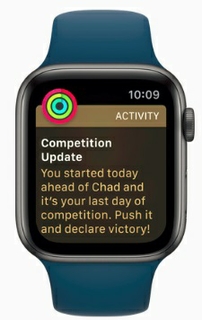 Easy Ways To Connect: The Freedom Of Cellular.
Check in with a buddy over Walkie-Talkie. Keep your workouts going by streaming Apple Music. Or raise your wrist and ask Siri to order your usual. Apple Watch Series 4 with cellular makes it easy to stay connected to the people and information you care about most. Even when you don't have your phone.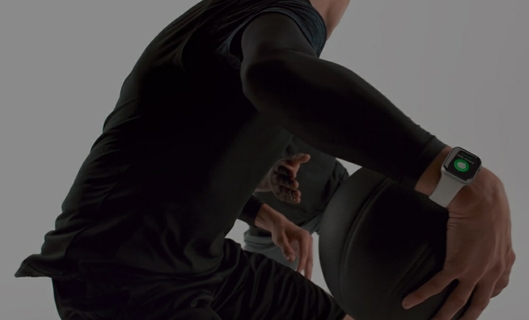 Say hello to Walkie‑Talkie.
Quicker than a call. More personal than a text. The Walkie-Talkie app lets you communicate in a fun, new way with anyone who has an Apple Watch. Just press to talk. Let go to listen. Roger that?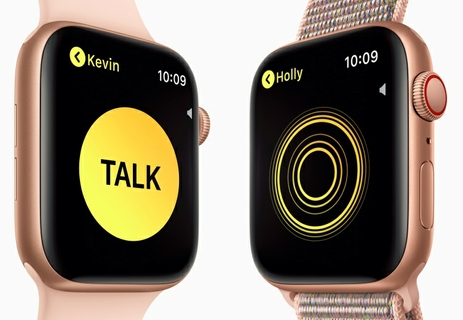 If You Need It, Siri Is On It.
Siri is better in more ways than one. You no longer need to say "Hey Siri." Just raise your wrist and speak. And since the Siri watch face gets to know you as you use it, it can proactively make suggestions at the right time and place — like ordering your morning coffee.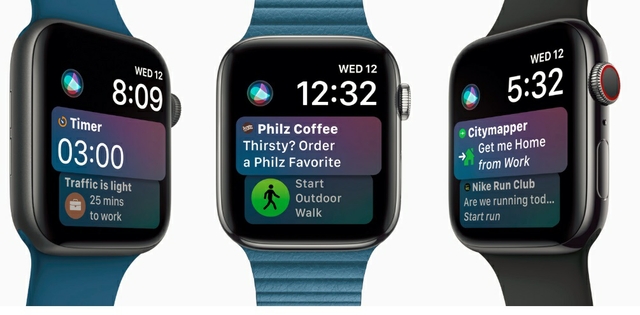 Listen To What You Love.
Stream anything from Apple Music and Apple Podcasts, directly from your wrist. You've got over 50 million songs to choose from. And a huge variety of stories, personalities, and news. It's up to you. Rock your run or learn as you burn.