Xiaomi Mi 20000mAh Power Bank
5.1V/3.6A Dual USB output
Intelligently adjusts power output, compatible with a wide range of devices. Enter a whole new level of high-speed of charging with dual USB ports with up to 5.1V/3.6A output. Not only is the output level based on the connected device. It is compatible with Smartphones and tablets, as well as a variety of digital cameras and handheld gaming devices.
More charges on the go!
The high-capacity 20000mAh power bank offers more charges on the go and does it way faster, all thanks to single-port Quick Charge 3.0 support. 20000mAh Mi Power Bank 2C supports dual USB output without compromising on the size and performance. Now, you can charge 2 devices simultaneously or extend your power with others in need. The power bank is designed to charge smartphones and tablets several times over.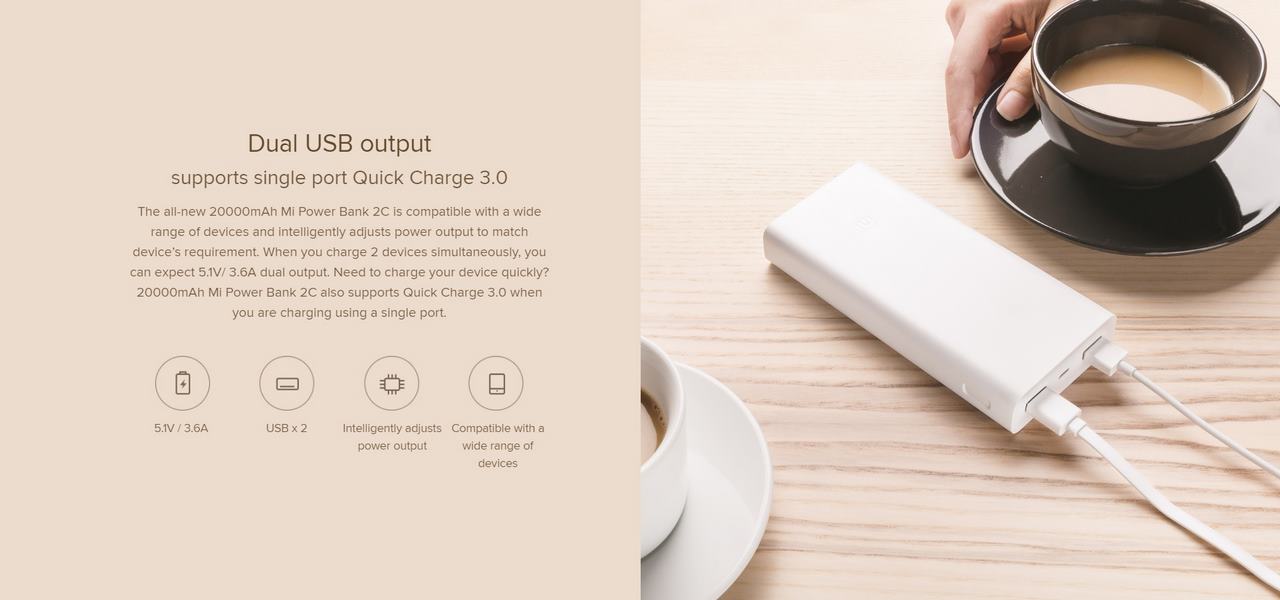 Environmentally friendly housing
Anti-slip and scratch resistant properties
The 20000mAh Mi Power Bank isn't just beautiful. It is housed in an environmentally friendly, PC+ABS plastic that is designed for better comfort.The plastic uses an anti-slip pattern for a better grip and is scratch resistant.Scratch Resistant, Anti-slip, Heat Resistant (90℃)
Massive improvement on charge and discharge efficiency
Using advanced battery technologies from ATL and Lishen, the new-generation Power Bank is both, light and high on performance. Weighing merely 358 g, you can carry the 20000mAh Mi Power Bank 2c anywhere without adding extra bulk.
Double press for low power charging
Safely charge low power devices such as bluetooth headsets and fitness bands. Simply double press the power button to enter 2-hour low power charging.
High-quality circuit boards improve safety
Experience improved safety, conversion rate & stabilized charge and discharge efficiencies with high-quality circuit boards.
9-layer circuit protection enhances safety and efficiency for both, charge and discharge.

Massive 20000mAh capacity
The perfect carry-on for flight
Keep phones, tablets, cameras and electronic devices powered on travels with the massive 20000mAh Mi Power bank. Its premium lithium-ion polymer batteries supplied have energy desities of up to 728Wh/L. Charge two devices at once with dual USB ports.